Bar Jai-Ca is a traditional tapas bar in the heart of Barceloneta that has been serving up delicious food and drinks for over 60 years. The bar is a popular spot for both locals and tourists, and it is a great place to experience the flavors of Barcelona. The menu features a wide variety of tapas, including fried fish, montaditos, and patatas bravas. Bar Jai-Ca is a great place to enjoy a leisurely meal with friends or family.
Best Travel Insurance for Spain
Here is what you will find:
Bar Jaica in Barcelona
Bar Jai-ca has been in business since 1955 but is still as fresh as the first day and shows a very a typical decoration from Barcelona: paintings on the walls, endless shelves with bottles, traditional wooden tables and tiles, Barça photos on the walls and Wine boots decorate the place. They offer a great variety of tapas, I would recommend you to try the anchovies and boquerones, the tortilla de patatas,  chipirones and a good ration of tigers (stuffed and fried mussels) all paired with a good vermouth.
There's also  a terrace to enjoy the good weather in summer after a day at the beach.
The public is a mix of locals, foreigners living in Barcelona and tourists. Do not be fooled,  the bar has not lost its authenticity over time and remains a frequent meeting point for families or groups of friends from the city. 
It is located in the neighborhood of Barceloneta (Carrer de Ginebra, 13), a fishermans district located in the coastal area of ​​the Barcelona. The nearest bus station is Passeig Joan de Borbó and you have to take one of these lines 39, 45, 59, D20, N8 or V15 to get there.
I leave you with a serving of cuttlefish.
Useful items for your stay in Barcelona
Below you will find some items that will be useful during your trip to Barcelona. In addition, the options that I recommend are committed to environment/social causes and are vegan.
10l backpack for day trips and trekking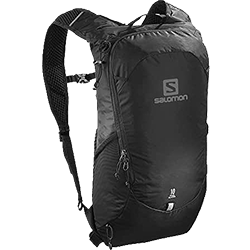 This 10 L backpack 10 is ideal for visitng cities or going hikimg. It has two compartments to organize your stuff properly and internal space for a hydration bag, as well as a side pocket to carry a bottle.
The size is suitable for 1 day trips and to go running, since it allows you to take everything you need with ease. In addition, it covers less of the back and thus avoids being overheated.
Insulated bottle (BPA free)
The Super bottle Sparrow is very practical to carry water and liquids when you are visiting around, or your are planning on going to the beach or trekking; and is made of stainless steel.
It is thermal and can maintain the temperature (hot and cold) for 12 hours. This is a great way to cool off when you go to the beach or in hot weather. In addition, it comes with an additional cap for practicing sport, two straws and a cleaner.
Waterproof windbreaker
Carrying a waterproof windbreaker in your suitcase is essential in case temperatures drop, it rains unexpectedly, or to go hiking.
When traveling, it's important to choose a jacket that is lightweight, takes up little space and that you can use in different situations; that is to say, that transpires, is waterproof and has a hood to protect you properly from bad weather.
👉 Price windbreaker for MAN and windbreaker for WOMAN