This article presents a list of the neighborhoods in Barcelona, Spain, along with a description of each neighborhood and its most notable places. Maps are also provided to help you get a better understanding of the districts of Barcelona, whether you're searching for a place to live or planning a trip. If you're visiting Barcelona for tourism, you'll find suggestions for where to stay and the best areas to explore.
Best Travel Insurance for Spain
Here is what you will find:
Neighborhoods and areas of Barcelona
Barcelona (👉TRAVEL GUIDE) is a city that has a lot to offer visitors. From its stunning modernist architecture, delicious cuisine, to its exciting nightlife and beautiful beaches, it's the perfect destination for those who are interested in history, art, culture, and leisure.
---
If you're foreigner planning a trip, in this link you can check the ✅ SANITARY REQUIREMENTS and get a VISA. Also, to help you travel without spending too much, in this link you'll find ✈️ CHEAP FLIGHTS and a 💥10% DISCOUNT on your TRAVEL INSURANCE.
When browsing the internet during your trip, it is essential to use a 👉 QUALITY VPN to ensure your privacy and security. Additionally, bringing a ⭐ TRAVEL DEBIT CARD will help you avoid issues with carrying cash and reduce the risk of theft.
---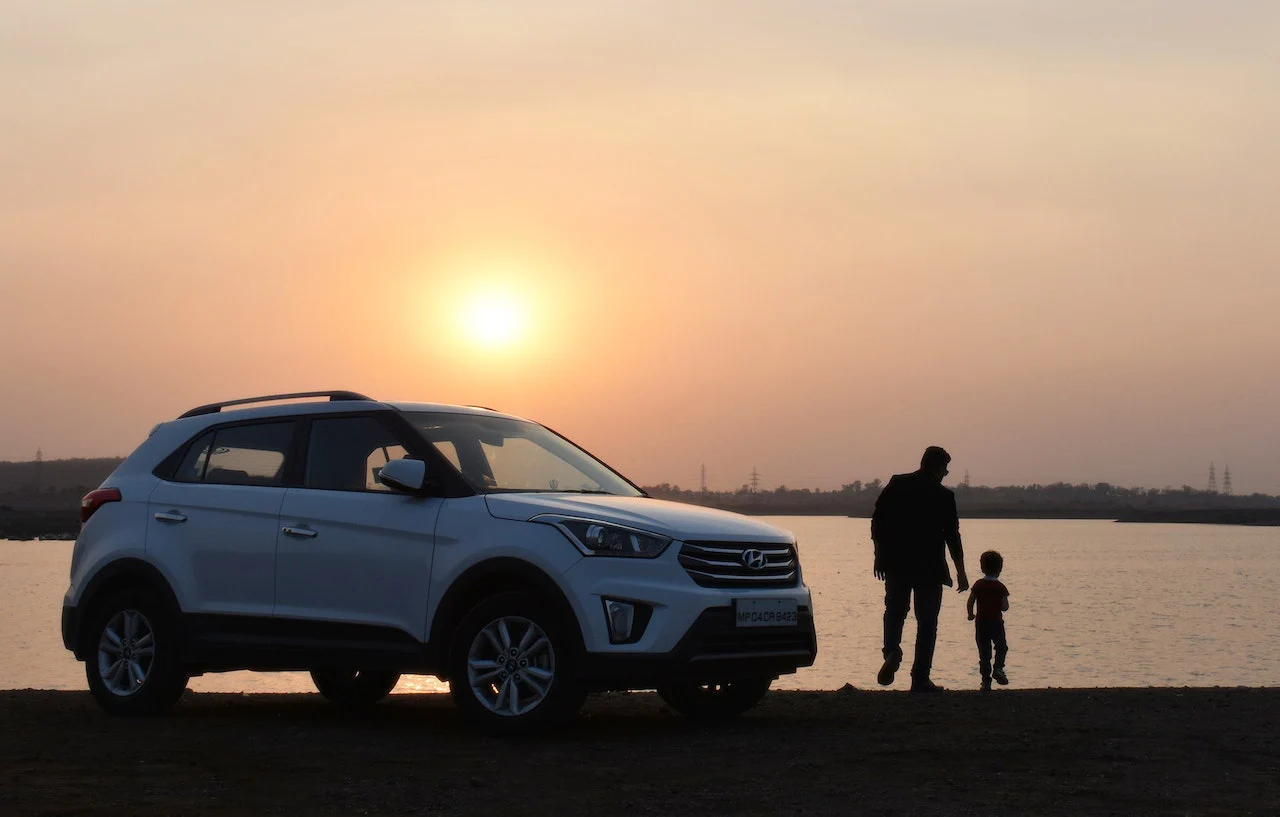 Car rental services in Spain
What are the main neighborhoods of Barcelona?
The following image shows a map of the central areas of Barcelona (👉TRANSFER from the AIRPORT). As you can see, each color on the map corresponds to one of the city's neighborhoods.
To complement the map, you'll find a list of the different neighborhoods in Barcelona, along with a description of their key characteristics.
Ciutat Vella neighborhood
Ciutat Vella is the historic and cultural center of Barcelona, composed of four iconic neighborhoods: Gothic, Born, Barceloneta, and Raval. The area is teeming with bars and restaurants, and houses important political structures such as the City Hall and Generalitat, as well as the Cathedral, its cloister, and the Liceo, along with many winding streets lined with small balconies filled with plants and flowers.
As a tourist hotspot, Ciutat Vella is one of the priciest areas to stay in the city. Nevertheless, it's a popular destination for foreigners and exchange students seeking to be in the heart of the action.
Barceloneta, famous for its fishing quarter history, still boasts its original houses and charm. Additionally, its direct access to the beach makes it a prime location for tourists seeking to soak up the sun on their vacations.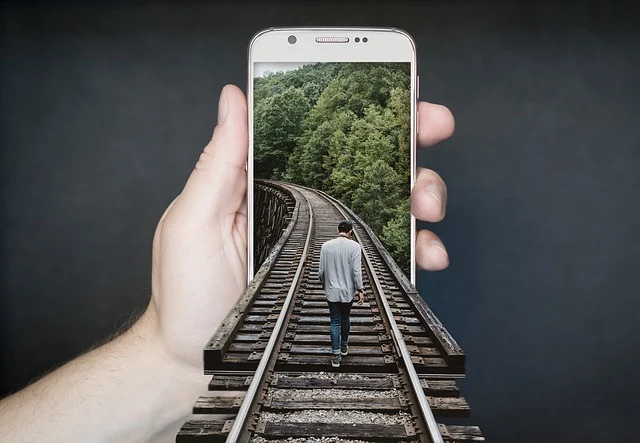 To save some money during your stay, make the most of this offer: Get €10 FREE for hotels, resorts, and hostels (for new customers)!
HIGH BUDGET
SERRAS HOTEL (👉price) is an urban escape that blends elegance and vintage charm with contemporary amenities. Enjoy breathtaking views of the city from the rooftop pool and relax in a tranquil environment.
MERCER HOTEL (👉prices) Hotel is a stylish boutique hotel located in a historic building next to the ancient Roman wall. Ideal for both business travelers and vacationers, this hotel boasts a business center and swimming pool, offering comfort and style in equal measure.
MEDIUM BUDGET
REC HOTEL (👉prices) is ideal for those seeking modern and environmentally friendly accommodation. Soak in the tranquility of the city with a dip in the pool with breathtaking views.
CATALONIA MAGDALENES (👉prices) offers a range of amenities, including pet-friendly accommodations, a business center, childcare services, a spa, and an outdoor pool. Here you can strike a balance between your needs and have an unforgettable stay.
LOW BUDGET
ITACA HOSTEL (👉prices) is equipped with a fully functional kitchen, allowing you to save money by preparing your own meals. Chill out and socialize with other travelers in the cozy common area. The shared dormitories offer a social and friendly atmosphere for your stay.
L'Eixample – Sagrada Família
L'Eixample is one of the most iconic neighborhoods in Barcelona, known for its stylish streets and magnificent modernist architecture. Antoni Gaudi's most famous works, such as Casa Batlló and La Pedrera, can be found here, drawing in thousands of tourists every year.
As well as being a tourist hotspot, l'Eixample is also a residential area with quiet streets and a diverse range of bars, restaurants, fashion stores, and designer boutiques.
The neighborhood is also well-connected to the rest of the city, with multiple metro, bus, and railway lines running through it, making it easily accessible for both visitors and residents.
If you're looking for a place to stay during your trip to Barcelona, l'Eixample is a great choice with plenty of accommodation options, and is generally considered safer than Ciutat Vella. The only downside is that it is further from the beach.
To save some money during your stay, make the most of this offer: Get €10 FREE for hotels, resorts, and hostels (for new customers)!
HIGH BUDGET
MANDARIN ORIENTAL (👉prices) is situated in the heart of Passeig de Gràcia, offering a modern style and top-notch amenities such as a spa, both indoor and outdoor pools, childcare services, a pet-friendly environment, and a business center, making it an excellent choice for both business travelers and families.
ALMA BARCELONA GL (👉prices) is a hidden gem in the city center, housed in a beautifully restored 20th-century building. This hotel has been tastefully renovated to provide guests with a one-of-a-kind experience. With a focus on wellness and relaxation, the hotel boasts a spa, indoor pool, and child care services.
MEDIUM BUDGET
SOHO HOTEL (👉price) provides a comfortable accommodation with its outdoor pool, parking, business center, and terrace with breathtaking panoramic views.
TWO HOTEL (👉price) is a haven for relaxation, featuring a spa, outdoor pool, parking, and table tennis options, perfect for recharging and unwinding.
LOW BUDGET
At SANT JORDI HOSTEL (👉price) you have the option to book private rooms for groups or choose individual beds in shared rooms. The hostel boasts a small outdoor pool with views of the city, modern decoration, and several communal spaces, along with a fully equipped kitchen and computers available for use.
Sant Martí – Vila Olímpica
A former manufacturing center, its industrial past left its mark on the architecture with long, tall brick chimneys. But don't be fooled, it's full of charming little streets and they have the best horchata in town.
Currently it concentrates new companies and technology, clear examples are the Agbar tower and the Forum.
Les Corts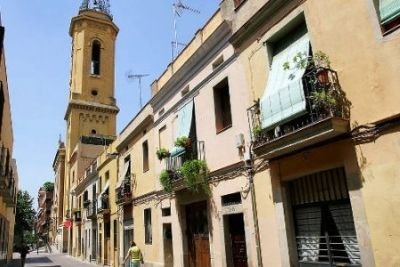 For Barça fans, this is where the Camp Nou is located.
It is close to the Pedralbes Palace and the university area, and it is a quiet neighborhood that mixes a modern part with an old part full of charm. It is well connected by metro and bus.
GRÀCIA
Gràcia is very popular for its neighborhood festivals in August, each street chooses a different theme and is characterized and decorated by its inhabitants (as an example the header photo).
Staying around here is a good option as it has a lot of nightlife and is close to Parc Güell. Visually it is like a small town within a big city, with its plazas and grandparents sitting on benches watching time go by.
Sarriá – Sant Gervasi: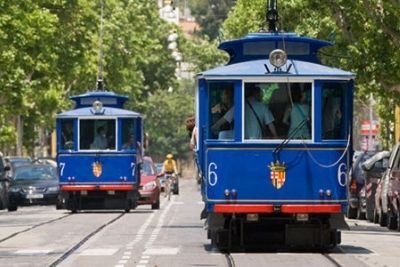 It is a wealthy and quiet neighborhood of Barcelona, with stately and bourgeois houses and is part of the Tramvia Blau route.
Highlights: the Science Museum, the Reial Monestir de Pedralbes and the Torre Bellesguard.
Sants – Montjuïc
A large part of the city's theaters and some museums are located in this neighbourhood, the Palacio de Montjuïc and Carrer de Sants are also worth a visit, I recommend getting lost in the alleys that line the street.
What neighborhood is downtown Barcelona?
Ciutat Vella, or Old City in English, is the historical center of Barcelona and comprises four neighborhoods: the Gothic, the Born, the Barceloneta, and the Raval. This area is known for its beautiful architecture, thriving cultural and leisure scene, and popularity among tourists and international students.
Ciutat Vella is conveniently connected by subway and bus, making it easy to reach all the tourist attractions and leisure spots in the city. It's the perfect place for those who want to immerse themselves in Barcelona's history and culture, as well as those seeking an energetic urban atmosphere and lively nightlife.
However, Ciutat Vella also has its downsides, such as a reputation for crime including theft, prostitution, and drug trafficking. Visitors shouldn't be overly concerned, as the area is always bustling, but it's important to be cautious and follow safety precautions, especially at night and on public transportation.
When visiting Ciutat Vella, keep in mind these recommendations:
Be cautious at night, especially in narrow streets and after drinking
Don't wear flashy or expensive jewelry
Keep your bag or backpack in front of you and keep your phone well stored
Watch out for pickpockets, especially on public transportation like the metro.
Where TO STAY in Barcelona (best area)?
If I had to pick a place to stay in Barcelona, I'd go for somewhere in the orange area, which is the city's most central and lively neighborhood. The green area marks approximately the center of the city.
The orange neighborhood is well-connected by public transportation (metro and bus), close to all the hotspots (tourist attractions, shops, bars, and restaurants), and has character. I suggest you stay close to a subway station or train station to make it easier to get around.
For safety reasons, I'd steer clear of the Raval neighborhood, especially if you'll be returning to your hotel at night. And keep in mind that tourists often stand out, so be cautious.
If you're looking to broaden your options for accommodations, I've included another map below that showcases more neighborhoods in the city. These areas (in green on the map) are still well-connected by public transportation and are conveniently located for easy mobility.
Useful items for your stay in Barcelona
Below you will find some items that will be useful during your trip to Barcelona. In addition, the options that I recommend are committed to environment/social causes and are vegan.
10l backpack for day trips and trekking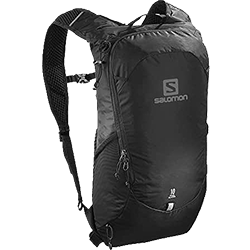 This 10 L backpack 10 is ideal for visitng cities or going hikimg. It has two compartments to organize your stuff properly and internal space for a hydration bag, as well as a side pocket to carry a bottle.
The size is suitable for 1 day trips and to go running, since it allows you to take everything you need with ease. In addition, it covers less of the back and thus avoids being overheated.
Insulated bottle (BPA free)
The Super bottle Sparrow is very practical to carry water and liquids when you are visiting around, or your are planning on going to the beach or trekking; and is made of stainless steel.
It is thermal and can maintain the temperature (hot and cold) for 12 hours. This is a great way to cool off when you go to the beach or in hot weather. In addition, it comes with an additional cap for practicing sport, two straws and a cleaner.
Waterproof windbreaker
Carrying a waterproof windbreaker in your suitcase is essential in case temperatures drop, it rains unexpectedly, or to go hiking.
When traveling, it's important to choose a jacket that is lightweight, takes up little space and that you can use in different situations; that is to say, that transpires, is waterproof and has a hood to protect you properly from bad weather.
👉 Price windbreaker for MAN and windbreaker for WOMAN
SAVE on transportation and attractions
If you are visiting Barcelona and want to save both on public transport (the city is very well connected by metro, bus and tram) and on attractions, I recommend these two options: the Barcelona Card and Hola BCN! card
Barcelona card
With this card you will be able to use public transport unlimitedly (except the night bus), you will have free access to more than 25 attractions in Barcelona, and more than 70 discounts in museums, monuments and restaurants in Barcelona.
For example, you can enter the following places for free: the Pedralbes Monastery, the Collserola Tower, the Blau Museum, the Catalan Modernism Museum, the Frederic Marès Museum, the Plaza del Rey Museum, the Chocolate Museum, the Antoni Tàpies Foundation, the Joan Miró Foundation, the Botanical Garden and the Cosmocaixa.
Apart from the places mentioned above, the Barcelona Card also offers discounts for the main tourist attractions of the city such as the Sagrada Familia, the Palace of Catalan Music, La Pedrera or the Camp Nou.
👉 You can BUY HERE the Barcelona Card
Below you will find a table with the different modalities and prices:
| | | |
| --- | --- | --- |
| | Adults | Children (4-12 yo) |
| Barcelona Card 3 days | 46 € (54,50 US$) | 22 € (26,10 US$) |
| Barcelona Card 4 days | 56 € (66,40 US$) | 28 € (33,20 US$) |
| Barcelona Card 5 days | 61 € (72,30 US$) | 33 € (39,10 US$) |
Hola BCN!
You can use the Hola BCN! card unlimited on any public transport in Barcelona (buses, Generalitat Zone 1 railways, suburban trains, trams and Renfe trains in Zone 1) and is free for children under 4 years of age.
The only transportation that is not included are night buses (NitBus); but if you arrive in Barcelona by plane, you can also take advantage of it to go from El Prat airport to the city.
👉 You can BUY HERE the Hola BCN! card
| | |
| --- | --- |
| Hola BCN! 2 days | 16,30 € (19,30 US$) |
| Hola BCN! 3 days | 23,70 € (28,10 US$) |
| Hola BCN! 4 días | 30,80 € (36,50 US$) |
| Hola BCN! 5 days | 38 € (45 US$) |
tours AND ACTIVITIES IN BARCELONA
Barcelona is a city that has multiple attractions: the architecture, the food, the markets, the bars, the history, the small alleys of the old town,…
So that you can get to know the city in depth, I'll list the TOURS AND ACTIVITIES that you can enjoy in Barcelona. There are also some free tours; if you don't see them, you can use the following link to see all the activities.
WHAT TO SEE IN BARCELONA
There are lots of different places you can visit in Barcelona depending on your tastes and interests.
Next, I describe some very nice places, but not as well known as La Pedrera or La Sagrada Familia. I hope you like them and enjoy them during your stay in the city!
SANTA CATERINA MARKET
The Santa Caterina market is a very peculiar place due to its colorful architecture, its history (it was built on top of an old convent) and its food.
Not only will you be able to buy typical products, but you will also have the opportunity to taste different dishes in the market bars. And in summer it is even better, since you can sit on a terrace to enjoy a good snack while you sunbathe.
VARÓN DE QUADRAS palace
It is a four-storey palace renovated by Puig and Cadafalch during the years from 1904 to 1906. The architecture stands out for being a mixture of Gothic and modernism with a touch of Islamic style.
The parts that attract the most attention are the tribune decorated with columns (in the photo); the staircase that has a handrail cut in stone; and the main façade that is adorned with busts and garlands.
The location of the Palacio del Varon de Quadras is very central (in Diagonal with Paseo de Gracia) and is well connected by public transport. In addition, you can take advantage of the fact that you are in the area to visit the Casa de les Punxes, which is located a few meters from there.
CASA ROCAMORA
Casa Rocamora is an Elizabethan mansion that is preserved in perfect condition. When you visit, you can walk through the different rooms decorated with period furniture and enjoy the different exhibitions.
On a permanent basis, they exhibit paintings by Ramon Casas and pieces from different collections from between the 7th and 20th centuries; In addition, clothing exhibitions by famous designers (such as Balenciaga or Gaultier) are held regularly.
Have a great time in Barcelona and enjoy your stay!!!