Are you in Puerto Escondido (Oaxaca) or Zicatela and want to visit the Benito Juárez market? Here you can try Mexican cuisine, buy fruits and vegetables, and more
In this post, I'll tell you what you'll find in this food and craft market, how to get there, and the map so you don't get lost.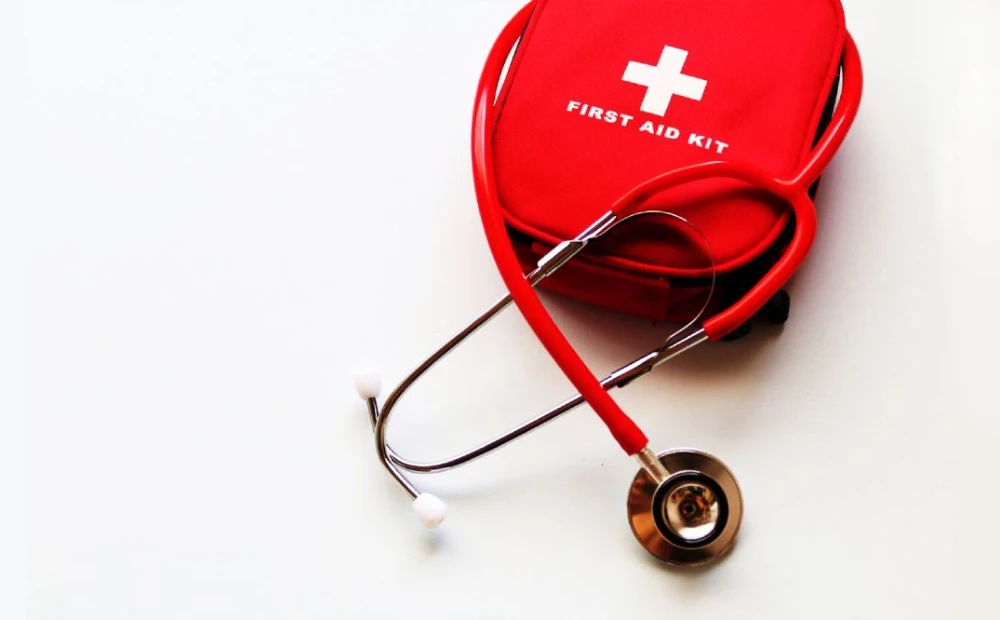 Best Travel Insurance for Mexico
Here is what you will find:
Benito Juárez market in Puerto Escondido (Oaxaca)
If you are planning a trip to Mexico (👉GUIDE to MEXICO), you need to know that it is a country with a great cultural and natural wealth. It is full of sites to discover, traditions to learn about and activities to join.
After spending almost a month in Puerto Escondido (rather in Zicatela, but there aren't many stores to buy food there) I am super convinced that this market is the best place in the area to buy in terms of quality/price.
In front of the main entrance there is a little cocoa shop where they make hot chocolate (that place smells amazing!), don't forget to stop by.
If you are vegan, it is a very good idea to stop by here, since it will be difficult for you to find food in restaurants. Having fruit and vegetables will do you good to prepare something to eat and be able to feed yourself correctly.
this is what you'll find in the Benito Juárez market
The main market in Puerto Escondido is Benito Juárez, and it offers a wide range of products near the center.
Seeing the markets and experiencing the cuisine is a way to learn more about the culture of a country. Also, by preparing your own dishes you can save and eat healthy on your trips.
This is what you will see and find on your visit to this market:
👉 Check out the shuttle prices from the airport to Puerto Escondido
Fruits, vegetables, cheese, meat and fish
It is a very complete market. They have a variety of fruits and vegetables (mangoes, different types of peppers, chia, etc.), as well as meat and fish (they even sell insects), and you will also find different cheese stalls.
The dairies are like the one in the photo and they are beautiful and curious to see.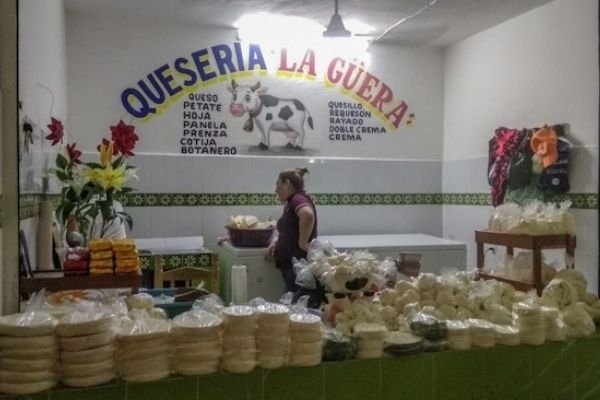 Flowers
In one area of the market there are stalls where they sell pretty bouquets of flowers. It looks really beautiful with all the colors, and I recommend you take a walk to enjoy it.
Do not hesitate to have a detail with someone you love or with yourself, pamper yourself a little and brighten up the day!
traditional food
You can take advantage of your visit to buy typical products from Mexico or Oaxaca, I'll list some for you:
TASAJO: It is typical Oaxacan veal meat that is cut thin, left to dry and smoked over firewood. It is eaten in quesillo, tlayudas, and other accompaniments.
TAMALES: they are prepared with corn or rice dough and filled with meat, vegetables, fruits,… there is a sweet version and also a salty version.
PAN DE MUERTOS: it is a typical dessert of the Day of the Dead. In Oaxaca, a yolk bread is prepared, to which a sugar figure is added to represent the soul of the person to whom the bread is dedicated.
Prices
In the Benito Juárez market there is a wide variety of food and the prices are relatively competitive. Compared to Mexico City, the prices are a bit high, but compared to other cities (such as Valladolid) it is cheap.
It is always a good idea to go around beforehand to compare the products and see if they have offers.
restaurants and juices
What is very good about the markets in Mexico is that they have small restaurants or juice shops, so you can take advantage of the visit to have lunch or a snack, and discover some traditional Mexican dish.
You have different options: tlayudas (corn tortillas covered with different ingredients, they are typical of Oaxaca), enchiladas, tacos, nopal salad (the prickly pear cactus tastes a bit like green beans), and much more.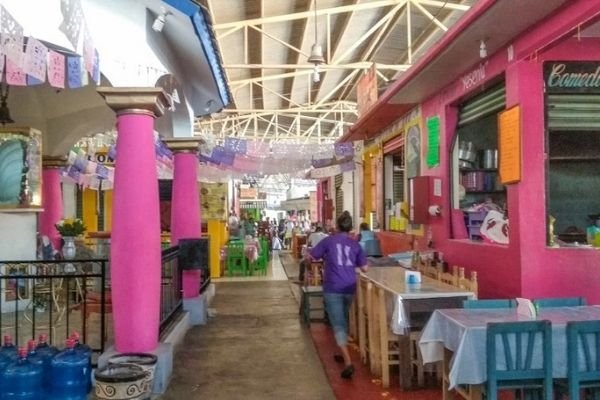 souvenirs, handicrafts and hats
In this particular market, there is a section of the site that is dedicated to the sale of clothing, shoes, souvenirs, huaraches (Mexican sandals) and hats, lots of hats!
If you decide to visit the Benito Juarez, it is the perfect time to take advantage and buy some souvenirs for family and friends.
There's another market in Puerto Escondido, make no mistake!
If you ask the people or the hotel they will tell you that there is another market at the exit of the town going towards Punta Zicatela. I popped in one day and I wouldn't recommend it, since it's much better to buy fresh produce.
Now I just have to tell you how to get there, attach the map with the location and wish you a great time during your visit to Oaxaca!
How to get to Benito Juárez market
El mercado esta muy bien comunicado en colectivo, este va siguiendo la carretera principal y pasa tanto por Puerto Escondido como por Zicatela. La parada de inicio y final se encuentra al lado mismo del mercado y el viaje cuesta 8 MXN.
Si es la primera vez que vas y no estás segur@ de dónde bajar, siempre puedes preguntar a la gente que vaya en el colectivo o a la persona que conduzca.
Tours & activities in Puerto Escondido
Both in Puerto Escondido and in the surrounding area there are many activities you can do and new things to learn.
Its beaches are not only a paradise of sand and snorkeling, but are also suitable for surfing and are a nesting place for sea turtles. Here you'll find tours and activities so you can get to know the Oaxaca region better.
Is it safe to travel to Mexico?
Mexico is a country where violent crime, such as robbery, homicide, and kidnapping, is common. There are states that it is not recommended to travel to ecause of safety reasons. Bellow, you'll find a list of the places that you should avoid.
The following states are not recommended for travel: Colima, Guerrero, Michoacan, Sinaloa, and Tamaulipas. And take extra precautions in Baja California, Chihuahua, Coahuila, Durango, Guanajuato, Jalisco, Mexico State, Morelos, Nayarit, Sonora, and Zacatecas.
Remember to follow these recommendations:
In case of robbery, do not resist physically.
Do not show a high purchasing power, that is, do not go with jewels, bags, etc … that are expensive.
Be careful if you go out at night, and stay in crowded places where you are surrounded by other people.
Thefts are usual (at guntpoint and during daytime), so don't go with the camera or mobile in your hand or hang out of your neck.
Try to avoid carrying the backpack on the back. Put it in front of you, or use a belt pouch or a cross bag.
I, personally, spent 4 months solo traveling around Mexico (I was in Puerto Escondido + Chacahua, Huatulco, Mexico City, Holbox, Merida, Valladolid, Tulum, Bacalar, Isla Mujeres, Cozumel and Playa del Carmen) and I didn't find myself in any dangerous situation.
Although in most of these places murders took place in the middle of the street and people staying in the same hostel as me were robbed at gunpoint. But don't let this scare you! Traveling to Mexico is totally possible, in fact it is a country with a lot of tourism.
In any case, it is always a good idea to have a TRAVEL INSURANCE that can compensate you economically and help you if a medical emergency arises.
If you are interested in traveling alone, I recommend this article on the reasons and benefits of solo traveling and this other article with tips for traveling alone as a woman. I encourage you to try it as it is a great and very beneficial experience for oneself.
What to do in Puerto Escondido
Puerto Escondido is popular for its beautiful beaches, and the facilities in restaurants and lodging that it offers. I describe some of the places that you can visit in the surroundings, and that are really worth seeing and living.
Chacahua Lagoons
Lagunas de Chacahua is a small quiet town away from the crowds. There are different activities you can do: snorkeling, surfing, observing bioluminescence,…
The beach is white sand and stretches for miles. It is a simple place in facilities, and that focuses on enjoying nature and its relaxed atmosphere.
Brisas de Zicatela
Zicatela is located next to Puerto Escondido (you can walk there) but it has two particular characteristics.
It's a bit off the beaten path and much more relaxed than the main beach in Puerto Escondido (which tends to get more crowded); and, in addition, it is one of the reference places for surfing in Mexico.
If you want to practice or learn this sport, in Zicatela stores you will find boards to buy and rent, and you can easily sign up for a class to learn with an instructor.
Punta Zicatela
A few kilometers away from Puerto Escondido, but well connected by bus, is Punta Zicatela.
The main attractions are surfing, sea turtles and its arid beaches with a beautiful rocky landscape. It has accommodation to spend the night, and from the viewpoint you can see views of the entire bay.
I hope you found the information you needed, and that you enjoy your trip to Mexico to the fullest!