La Casa de les Punxes (House of the Spikes) is a modernist building in Barcelona that was designed by Josep Puig i Cadafalch. It was built in 1905-1907, and it is considered to be one of the most important examples of Catalan modernism. The building is characterized by its spiky towers and its colorful facade, and it is a popular tourist destination.
Best Travel Insurance for Spain
Here is what you will find:
Casa de les Punxes

in Barcelona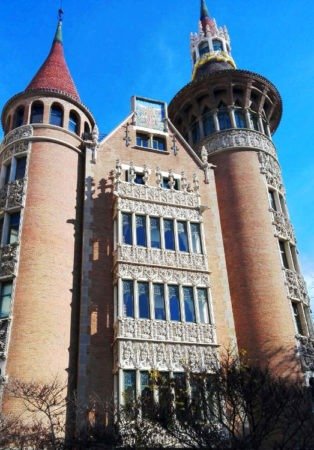 Casa de les Punxes (Casa Terrades) is an emblematic modernist building located in the heart of the city of Barcelona. For more than 100 years it has been closed to the public, but since 2016 its doors have been opened and offers daily visits to get to know it more closely. Its history is just as curious as its appearance: in 1905, Bartomeu Terradas Brutau commissioned Josep Puig i Cadafalch to design a house for each of his three sisters, Àngela, Josefa and Rosa. From this idea was born the Casa de les Punxes, it look like it came directly out of a fairy tale with a modern and surreal point. The six pointed towers crowned by conical needles gave it the name of "House of the Spikes". The 3 sisters died without descendants and the property returned to Brutau. In 1975 it was declared a historical monument of national interest.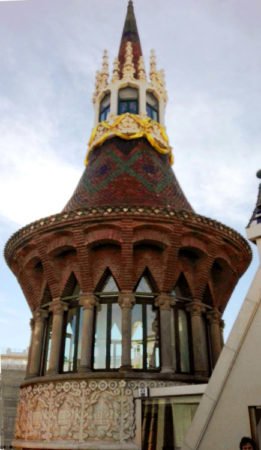 There are different types of tickets, depending on whether it is guided or audioguided or if you want to enjoy a glass of cava during an overnight tour. The cheapest costs 12.5€. It's open every day from 9 a.m. to 8 p.m. (Monday to Sunday), and the last entry is at 7:00 p.m.
Highly recommended are the live performances that take place on the roof every Friday night during the summer (you can see the roof in the photo below), the main musical styles are jazz and jazz-fusion. The ticket costs 25e and includes a glass of cava. If you decide to see the house before the concert, a 2×1 discount will be applied with the purchase of the ticket to visit it. Before you go there, or when you go out, you can also go for a walk on the Diagonal, it is full of beautiful buildings and bars to have a drink.
To get there, there are two metro stops nearby: the L3 and L5 (Diagonal) or the L4 and L5 (Verdaguer). And a little closer you have the bus lines 33, 34 and 6 (Diagonal-Bruc).
Useful items for your stay in Barcelona
Below you will find some items that will be useful during your trip to Barcelona. In addition, the options that I recommend are committed to environment/social causes and are vegan.
10l backpack for day trips and trekking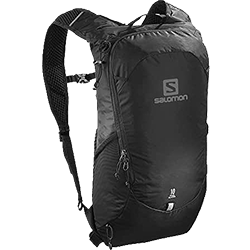 This 10 L backpack 10 is ideal for visitng cities or going hikimg. It has two compartments to organize your stuff properly and internal space for a hydration bag, as well as a side pocket to carry a bottle.
The size is suitable for 1 day trips and to go running, since it allows you to take everything you need with ease. In addition, it covers less of the back and thus avoids being overheated.
Insulated bottle (BPA free)
The Super bottle Sparrow is very practical to carry water and liquids when you are visiting around, or your are planning on going to the beach or trekking; and is made of stainless steel.
It is thermal and can maintain the temperature (hot and cold) for 12 hours. This is a great way to cool off when you go to the beach or in hot weather. In addition, it comes with an additional cap for practicing sport, two straws and a cleaner.
Waterproof windbreaker
Carrying a waterproof windbreaker in your suitcase is essential in case temperatures drop, it rains unexpectedly, or to go hiking.
When traveling, it's important to choose a jacket that is lightweight, takes up little space and that you can use in different situations; that is to say, that transpires, is waterproof and has a hood to protect you properly from bad weather.
👉 Price windbreaker for MAN and windbreaker for WOMAN