Playa Hermosa (Puntarenas) is one of the most beautiful beaches I visited in Costa Rica; and it is incredibly quiet, even though it is in the heart of the Marino Ballena Park in Uvita.
In this post you will find how to get to Playa Hermosa, what the beach is like, what to do in Uvita and some extra tips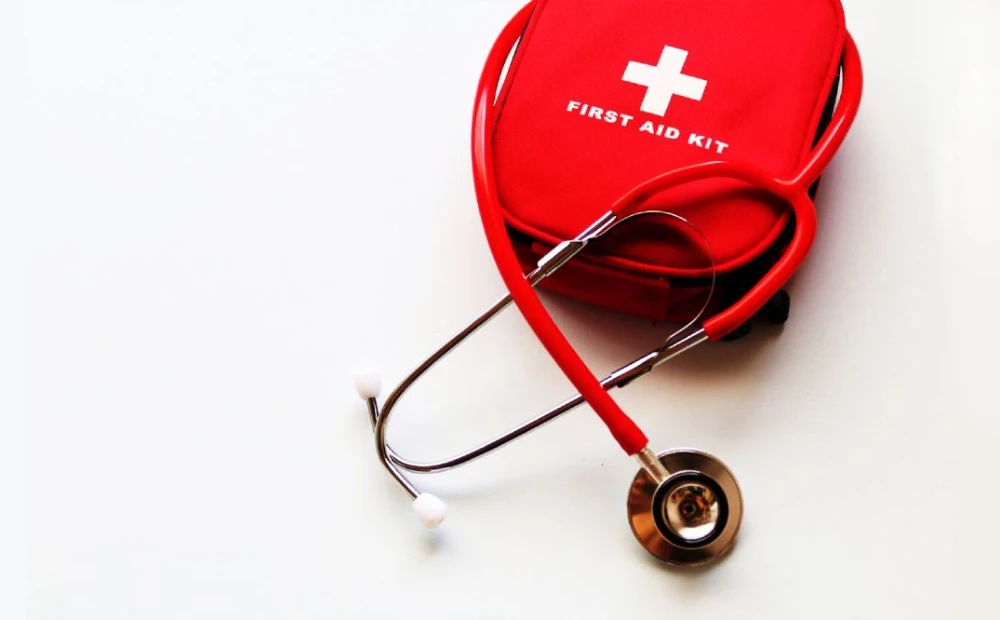 Best Travel insurance for Costa Rica
Here is what you will find:
PLAYA HERMOSA (Uvita)
If you are planning a trip to Costa Rica (👉COSTA RICA GUIDE), you should know that it is a country characterized by the beauty of its beaches, mountains, volcanoes and the diversity of its wildlife.
---
If you're foreigner planning a trip, in this link you can check the ✅ SANITARY REQUIREMENTS and get a VISA. Also, to help you travel without spending too much, in this link you'll find ✈️ CHEAP FLIGHTS and a 💥10% DISCOUNT on your TRAVEL INSURANCE.
When browsing the internet during your trip, it is essential to use a 👉 QUALITY VPN to ensure your privacy and security. Additionally, bringing a ⭐ TRAVEL DEBIT CARD will help you avoid issues with carrying cash and reduce the risk of theft.
---
Playa Hermosa is part of the Marino Ballena Park, and forms half of the tail that gives the park its name. It is a protected area for fishing and hunting, and this makes it possible to enjoy its nature and beaches, and activities such as snorkeling and diving.
It has the added bonus of being well located and connected by public transport, and close to other interesting destinations, such as Dominical or Drake Bay.
Keep in mind that there are no lifeguards or rescue services on the beach, so it is better not to go too far and be responsible with yourself.
Recommendation: in the parking area, there is usually a man selling coconuts that are very well priced. Take the opportunity to buy one and take it on the beach!
What is Playa Hermosa like?
Playa Hermosa lives up to its name down to the smallest detail. It ticks all the boxes to be a dream beach: there are palm trees, palm trees and more palm trees, each taller and more full of coconuts.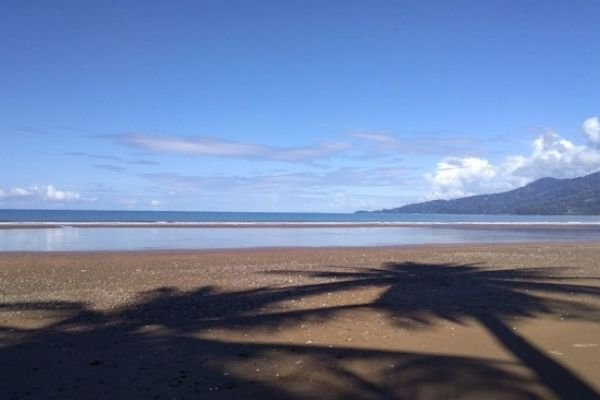 wildlife
Throughout Costa Rica there is a lot of fauna and, in the Marino Ballena area, there is a small path that follows the coast and that I recommend you visit while you take a walk.
I'm not telling you to go recklessly into the jungle (there are wild crocodiles!), but if you explore the vegetation and pay close attention, you'll be able to see: different types of birds, monkeys, very dark squirrels, red parrots, and lizards… lots of lizards from the big guys.
If you like underwater life, you have to know that between the months of December and April you can see humpback whales. So it would be an ideal time to go scuba diving.
The beach
You can bathe and enjoy the beach alone, and the water is warm to lukewarm (perfect for those with cold).
The sea is dark blue in color and extends to all sides; to the left is Punta Uvita and to the right you can see a beautiful mountainous landscape. Near the palm trees there are fallen trees where you can sit and enjoy the scenery or relax in the shade.
In your place I would go early or in the afternoon, because the sun doesn't burn so much; and when the tide is low to better appreciate the landscape.
I'm going to repeat it although I don't want to weigh myself down: I loved it. It's from a movie, extremely precious, it's worth visiting and spending a few days here to be able to enjoy this natural wonder even more.
Learn to surf
People gather in the area to practice surfing. If you are interested in the subject, you will see that there are some surf shops/schools, to learn to practice this sport or improve your level.
I recommend that you try it, even if it's just to live the experience. I personally found that it can be a very fun and very muscular activity, and it is even more amazing with a landscape like this.
Where to stay in Playa Hermosa
There are two main areas to stay: on the main road that crosses Uvita, and in the accommodations that are located near the Marino Ballena National Park (between Playa Hermosa and Playa Uvita).
1) My recommendation is that you book very close to Bahía Ballena Park (regardless of which beach, the important thing is to be close to the coast). Since it will be more comfortable for you to visit the beaches and you can also enjoy the sunset and the atmosphere.
2) If you book a hotel/hostel that is on the main road that passes through Uvita, then it will be more tiring to visit the area since it is about 3.5 km away, and also the landscape will not be as beautiful.
This location has the advantage of being closer to the supermarket (it's one of the big ones) and the bakery; and this can help you save and eat healthy during the trip.
Tours and activities in Costa Rica
Although small, Costa Rica is a country full of jewels and impressive places to visit. Its focus is on its nature and its fauna, with popular beach destinations, its volcanoes, and excursions to observe sloths, sea turtles or crocodiles.
Here you can find a list of tours and activities that you can do during your trip, to discover Costa Rica in more detail:
How to get to PLAYA HERMOSA
If you stay near the Ballena Marine Park, you can see on the map that reaching Playa Hermosa is just a walk.
On the other hand, if you stay near the coastal highway, there is no public transport method that can take you to the beach area, but you can go:
walking (it gets a bit long and the path is quite sunny)
by bike: they rent them in some hotels and hostels, although don't expect them to be new or good; Also, the road is not paved.
by private transport or taxi: it is the most comfortable option but also the most expensive.
Is there a parking in Playa Hermosa?
There is no parking that has a security service, but there is a fairly large space next to Uvita beach, where you can park your car and motorcycle comfortably.
Note: although the road to get to the beach is not paved, you do not necessarily need to have an off-road vehicle (4×4) to get there; and on a motorcycle you can do the journey without problems if you have previous experience.
How to get to playa Hermosa from
Dominical
Dominical is very close to Uvita and is a regular stop if you are visiting the area. There is a bus that runs along the coastal highway and in a moment you are there. The stop is on the road itself, and from there you will have to get to Playa Hermosa.
I leave you this link where I tell you how to get to Uvita from Dominical and vice versa.
Tip: arrive at the stop earlier and keep in mind that in Costa Rica the schedules are always indicative and not exact.
How to get to playa Hermosa from
San José
From San José, you can get to Uvita by bus and by minibús:
– Going by minibus is the most comfortable option, but it is also more expensive. And it has the advantage that they pick you up at your hotel in San José and take you to the port of your hotel in Uvita.
👉 Check the minibús prices to Uvita
– If you prefer, you can also go by bus. Public transport is the best option if you prioritize economy, since the ticket is cheap and the journey is direct. I leave you this link with the details on how to get to Uvita from San José.

How to get to playa Hermosa from
Bahía Drake
Getting there from Drake Bay is a bit longer and heavier since you need to take a boat and two buses; but it can be done easily. The positive part is that the landscape on the boat is beautiful and you may even see crocodiles on the pier.
Here you have all the steps and indications to go from Uvita to Drake Bay and vice versa.
What to do

near playa hermosa y

Uvita

Uvita is a small town but it has very nice places to discover. Here are some that are near Playa Hermosa:
Playa Arco
Within the Ballena Marine Park you can also bathe in a hidden beach called Arco beach. It has a shape similar to a whale's tail but smaller and, being away from the main area, it is usually very quiet.
The best thing is that it has a small waterfall with views of the sea, and a shower made of bamboo where you can wash off the salt and sand after bathing (it's an incredible experience). Its landscape and the diversity that this beach offers make it a very special place.
Catarata Uvita
Uvita Waterfall is the ideal place to disconnect from the beach and give your stay a little variety. It is a small waterfall near the center of Uvita, where you can bathe and jump from the rocks.
Next door there is also a butterfly garden, and a restaurant to eat something during your visit. In any case, I recommend that you bring some sandwiches and organize a small picnic in the river.
National park Marino Ballena
Playa Hermosa is part of the Ballena Marine Park. This natural park that receives its name from the shape of a whale's tail that is created when Playa Hermosa meets Playa Uvita.
Here you can enjoy a beautiful landscape, learn more about its fauna (both terrestrial and aquatic) and snorkel, surf, scuba dive and even sign up for a whale and dolphin watching tour!
Although it is the biggest tourist attraction in Uvita, the place is still very relaxed and pleasant; and, if you move a little away from the queue area, you will have the beach to yourself.
I say goodbye between palm trees and feeling like Tom Hanks in the movie Cast Away 😃 Enjoy Costa Rica to the fullest!