In 1979 Joan Manubens decided that being a mechanic was not his job and, encouraged by his brother, decided to open a restaurant. El Passadís del Pep (in honor of his brother) is at the end of a narrow corridor and next to an ATM in the district la Ribera in Barcelona.
Best Travel Insurance for Spain
The main character of our story didn't know anything about cooking, and decided to take advise from his mother, a woman experienced in cooking, she who was in charge of developing the daily menu that would be served in the restaurant.
Although the years flew by, the spirit of the place has not changed: it's defined by fresh and seasonal products, opting for the simplicity in the elaboration of the dishes to be able to enjoy the whole flavor of the product. The look is cozy and maintains the structure of the original place: stone arches, wooden beams and paintings by well-known painters hanging from the wall.
The restaurant works without a menu, the guests are seduced by the different proposals of the day. For example an entree of bread with tomato and oil accompanied by spanish ham, followed by servings of molluscs and crustaceans. The main dishes are: the kind of fish that of the day, monkfish stew, fillet, roasted kid or tripe with chick-peas (callos).
To finish a good Catalan cream or a chocolate dessert will leave us with sweetness in our mouths and a willing to come over again.
For wine and sparkling wine lovers, Passadís del Pep has a very complete wine cellar, made up of classic and modern wines, perfect to enjoy with the food. Do not hesitate to let you advise to further enhance this culinary experience.
The nearest public transport is the subway (L4 la Barceloneta) and bus lines H14 (Pg Isabel II – Pla de Palau) and lines 45, 120, V15, V17 (Via Laietana – Jutjats).
Here is what you will find:
Useful items for your stay in Barcelona
Below you will find some items that will be useful during your trip to Barcelona. In addition, the options that I recommend are committed to environment/social causes and are vegan.
10l backpack for day trips and trekking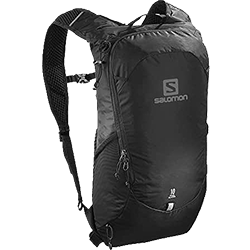 This 10 L backpack 10 is ideal for visitng cities or going hikimg. It has two compartments to organize your stuff properly and internal space for a hydration bag, as well as a side pocket to carry a bottle.
The size is suitable for 1 day trips and to go running, since it allows you to take everything you need with ease. In addition, it covers less of the back and thus avoids being overheated.
Insulated bottle (BPA free)
The Super bottle Sparrow is very practical to carry water and liquids when you are visiting around, or your are planning on going to the beach or trekking; and is made of stainless steel.
It is thermal and can maintain the temperature (hot and cold) for 12 hours. This is a great way to cool off when you go to the beach or in hot weather. In addition, it comes with an additional cap for practicing sport, two straws and a cleaner.
Waterproof windbreaker
Carrying a waterproof windbreaker in your suitcase is essential in case temperatures drop, it rains unexpectedly, or to go hiking.
When traveling, it's important to choose a jacket that is lightweight, takes up little space and that you can use in different situations; that is to say, that transpires, is waterproof and has a hood to protect you properly from bad weather.
👉 Price windbreaker for MAN and windbreaker for WOMAN