El Passadís del Pep: fresh and traditional food at the end of a corridor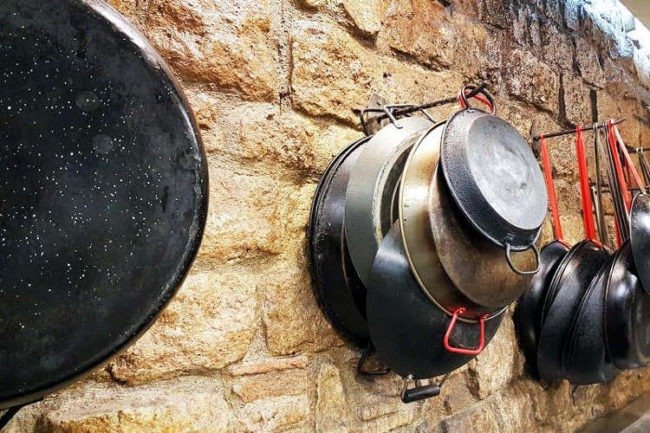 In 1979 Joan Manubens decided that being a mechanic was not his job and, encouraged by his brother, decided to open a restaurant. El Passadís del Pep (in honor of his brother) is at the end of a narrow corridor and next to an ATM in the district la Ribera in Barcelona. The main character of our story didn't know anything about cooking, and decided to take advise from his mother, a woman experienced in cooking, she who was in charge of developing the daily menu that would be served in the restaurant.
Although the years flew by, the spirit of the place has not changed: it's defined by fresh and seasonal products, opting for the simplicity in the elaboration of the dishes to be able to enjoy the whole flavor of the product. The look is cozy and maintains the structure of the original place: stone arches, wooden beams and paintings by well-known painters hanging from the wall.
The restaurant works without a menu, the guests are seduced by the different proposals of the day. For example an entree of bread with tomato and oil accompanied by spanish ham, followed by servings of molluscs and crustaceans. The main dishes are: the kind of fish that of the day, monkfish stew, fillet, roasted kid or tripe with chick-peas (callos).
To finish a good Catalan cream or a chocolate dessert will leave us with sweetness in our mouths and a willing to come over again.
For wine and sparkling wine lovers, Passadís del Pep has a very complete wine cellar, made up of classic and modern wines, perfect to enjoy with the food. Do not hesitate to let you advise to further enhance this culinary experience.
The nearest public transport is the subway (L4 la Barceloneta) and bus lines H14 (Pg Isabel II – Pla de Palau) and lines 45, 120, V15, V17 (Via Laietana – Jutjats).