Restaurant Pitarra: traditional food in a 19th century location
Pitarra (Frederic Soler) was a well-known poet and playwright who laid the foundations of Catalan theater, he was born in Barcelonal on 9 October 1839. The restaurant that bears his name is located in his uncle's old jewelry  on Calle Avinyó. At the early age of 9 years old he moved to live with him and later would take care of the family business. A group of writers and artists met in the back room  and, when Pitarra closed the shop, he and some friends represented the theater that he wrote. José Zorrilla also ​​stayed in the shop in his visits to Barcelona, and he even lived there during the 4 years that he spent in the city.
In 1889 he began to have heart disease and, in December of that same year, decided to close the jewerly for good (it became a restaurant) and to dedicate exclusively to the Romea theater. He moved to carrer del Carme, 64, where he died on 4 July 1895.
The restaurant is mainly based on market and traditional Catalan cuisine, and they are specialized in the hunting season. In the menu there are included dishes like the sautéed beans with onion, Iberian ham and prawns; anchovies from la Escala with toast and tomato;paella with cod and artichokes; roasted kid or catalan cream. The decor is very typical and still retains memories of its origins: the walls are full of old paintings and clocks; and decorated with period tiles. The shapes on the wood of the windows is handcrafted and full of details, transporting us even more to the Barcelona of Pitarra.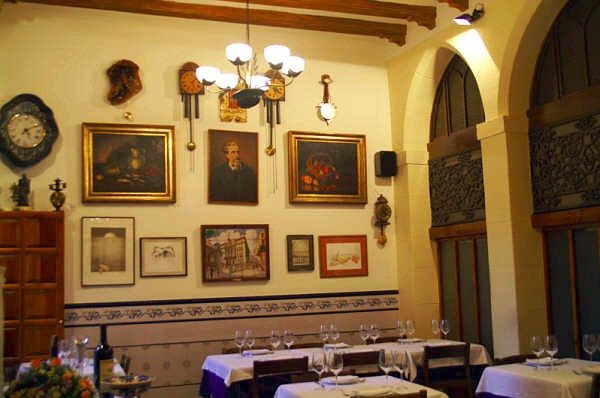 To get there the nearest bus stop is Plaça de la Mercè line 120, if youprefet to  take the 59, D20, H14 or V13 you have to get off at Moll de la Fusta.
Opening hours:
from 13:00 to 16:00
from 20:00 to 23:00
Closed Sundays all day long and
festive days at night.