Every year during the feast of Corpus Christi, a curious tradition takes place in Barcelona: an egg is placed on a fountain and dances suspended by a jet of water. The dancing egg is a popular tourist attraction, and it is a unique way to experience Barcelona's rich cultural heritage.
Best Travel Insurance for Spain
Here is what you will find:
The dancing egg in Barcelona
L'ou com balla is a tradition celebrated in Corpus Christi. An egg is made to dance in the fountains stream located in cloisters, courtyards and gardens; The egg is placed in the jet so that it rotates without falling.
The body of the fountain is covered with flowers and fruits of the season, playing with the colors to make them attractive to the eye of the viewer. Each fountain is unique and has its own charm: some are completely covered with cherries, others decorated with lilies and roses. It's a special moment to see Barcelona's architecture from a more festive and cheerful perspective.
In addition to the places that appear in the photographs you can also see the dancing egg in the Cathedral (you will see geese walking around the courtyard), el Pueblo Español, the Frederic Marès Museum (Sant Iu square), the parish of the Purísima Concepción (c / Aragó, 299), the Reial Acadèmia de Bones Lletres de Barcelona (c / Obispe Caçador, 3) and in the school Escolàpies Llúria (c / Aragó 302).
All the places where this tradition is celebrated are centrally located and can be reached by public transport without problems. Don't miss it!
Useful items for your stay in Barcelona
Below you will find some items that will be useful during your trip to Barcelona. In addition, the options that I recommend are committed to environment/social causes and are vegan.
10l backpack for day trips and trekking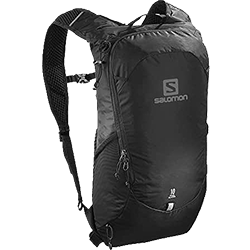 This 10 L backpack 10 is ideal for visitng cities or going hikimg. It has two compartments to organize your stuff properly and internal space for a hydration bag, as well as a side pocket to carry a bottle.
The size is suitable for 1 day trips and to go running, since it allows you to take everything you need with ease. In addition, it covers less of the back and thus avoids being overheated.
Insulated bottle (BPA free)
The Super bottle Sparrow is very practical to carry water and liquids when you are visiting around, or your are planning on going to the beach or trekking; and is made of stainless steel.
It is thermal and can maintain the temperature (hot and cold) for 12 hours. This is a great way to cool off when you go to the beach or in hot weather. In addition, it comes with an additional cap for practicing sport, two straws and a cleaner.
Waterproof windbreaker
Carrying a waterproof windbreaker in your suitcase is essential in case temperatures drop, it rains unexpectedly, or to go hiking.
When traveling, it's important to choose a jacket that is lightweight, takes up little space and that you can use in different situations; that is to say, that transpires, is waterproof and has a hood to protect you properly from bad weather.
👉 Price windbreaker for MAN and windbreaker for WOMAN