Gran Bodega Saltó is a century-old wine bar in Barcelona that is known for its live music. The bar is located in the Poble Sec neighborhood, and it is a popular spot for both locals and tourists. The menu features a wide variety of tapas and pintxos, as well as a selection of wines from Spain and Portugal. Gran Bodega Saltó is a great place to experience the vibrant nightlife of Barcelona.
Best Travel Insurance for Spain
Here is what you will find:
Bodega Saltó

in Barcelona

Bodega Saltó is almost 100 years old. In its origins it was a meeting point for many housewives who were going to buy wine wholesale and seize the opportunity to talk with their acquaintances. In 2001 it was about to close but by chance two people showed up at the bodega in search of wine. They wanted to try their luck in this sector and decided to take over the business, six months later, on 17 June 2002, opened again renamed as Gran Bodega Saltó.
It maintains the original style of the typical bodega, with wine barrels adorning the walls along with bottles of different alcohols, and without neglecting the protagonism of the wood in all corners. Since its reopening has been added a more daring and musical touch: instruments have been used to decorate and create ambiance, as well as dolls and puppets with shapes of animals or people. Although they have not abandoned the tradition of selling bulk wine.
Sundays at 1.30pm they organize a "Vermut Musical". You can enjoy olives and anchovies while listening to live music. The styles are varied but always acoustic: rumba, blues, songwriters, mestizaje,… The entrance is free but has it's solidarity initiative. During the Vermut oil bottles are colected for the NGO Bona Voluntat en Acció to collaborate with the most needy families in the neighborhood (Poble sec).
In the menu you can find several cold tapas like sardines in vinegar, spanish ham and cheeses, sandwiches, cockles, pickled mussels, braised artichokes and carpaccio of cod with olivada and you can pair it with a glass of tap vermouth.
Gran bodega Saltó is located in C / de Blesa, 36 and the best option to get there is by taking the bus line 121 ( Pg. de Montjïc station) or the line D20 (Paral·lel / Ronda St. Pau station). 
Useful items for your stay in Barcelona
Below you will find some items that will be useful during your trip to Barcelona. In addition, the options that I recommend are committed to environment/social causes and are vegan.
10l backpack for day trips and trekking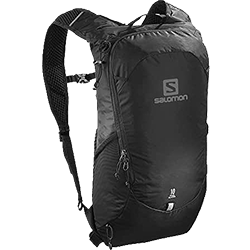 This 10 L backpack 10 is ideal for visitng cities or going hikimg. It has two compartments to organize your stuff properly and internal space for a hydration bag, as well as a side pocket to carry a bottle.
The size is suitable for 1 day trips and to go running, since it allows you to take everything you need with ease. In addition, it covers less of the back and thus avoids being overheated.
Insulated bottle (BPA free)
The Super bottle Sparrow is very practical to carry water and liquids when you are visiting around, or your are planning on going to the beach or trekking; and is made of stainless steel.
It is thermal and can maintain the temperature (hot and cold) for 12 hours. This is a great way to cool off when you go to the beach or in hot weather. In addition, it comes with an additional cap for practicing sport, two straws and a cleaner.
Waterproof windbreaker
Carrying a waterproof windbreaker in your suitcase is essential in case temperatures drop, it rains unexpectedly, or to go hiking.
When traveling, it's important to choose a jacket that is lightweight, takes up little space and that you can use in different situations; that is to say, that transpires, is waterproof and has a hood to protect you properly from bad weather.
👉 Price windbreaker for MAN and windbreaker for WOMAN