Playa la Entrega is one of the most popular beaches in Bahías de Huatulco (Oaxaca, Mexico), known for its SNORKELING (👉price) opportunities. In this article, we will discuss what to do at La Entrega beach, how to get there, and provide useful tips for your trip."
Here is what you will find:
Bays of Huatulco and La Entrega beach (Oaxaca)
---
If you're foreigner planning a trip, in this link you can check the ✅ SANITARY REQUIREMENTS and get a VISA. Also, to help you travel without spending too much, in this link you'll find ✈️ CHEAP FLIGHTS and a 💥10% DISCOUNT on your TRAVEL INSURANCE.
When browsing the internet during your trip, it is essential to use a 👉 QUALITY VPN to ensure your privacy and security. Additionally, bringing a ⭐ TRAVEL DEBIT CARD will help you avoid issues with carrying cash and reduce the risk of theft.
---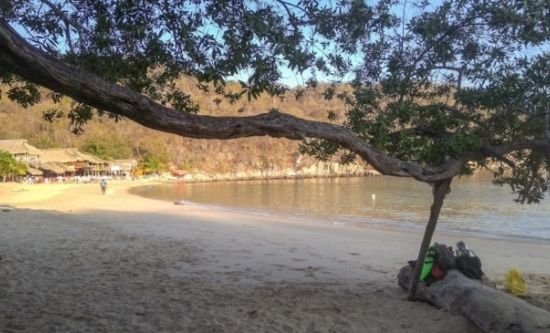 What is La Entrega beach (Huatulco) like?
Playa La Entrega is a great spot located in the Bay of Santa Cruz. It's perfect for a day of sun and fun in the sea. The water is crystal clear and calm, making it great for snorkeling and for kids to swim without any worries.
The beach is small and cozy, and there's a beautiful tree that provides shade and a great spot to sit and take in the views of the cove. Along the beach, you will find several restaurants and beach bars where you can grab a cold drink or something to eat, making it a perfect spot to spend the day.
La Entrega beach is quite popular among tourists, particularly known for its snorkeling opportunities. To avoid the crowds, I recommend arriving early. If you do, you'll find that the beach is relatively empty, and you'll be able to enjoy it almost to yourself (as you can see in the pictures).
It's a great option if you're looking for a spot near Crucecita that's easy to get to without any hassle. You'll find plenty of options for food and drinks nearby, making it a perfect spot for a day trip without the need for extensive planning or a lot of walking.
What to do at La Entrega beach (Bays of Huatulco)?
At Playa La Entrega, you'll find a variety of activities to do. Here are some options for you to enjoy your time on this beautiful beach:
If you want to relax and enjoy the sun and sea, you can spend the day lounging on the sand, enjoying the waves and the scenery. If you get hungry, you can bring your own food and have a small picnic on the beach, or try some of the dishes offered by the restaurants on the beach.
If you enjoy SNORKELING (👉tour) and diving, then take advantage of the opportunity to explore the coral reef that grows on the shores of La Entrega. If you don't have your own gear, don't worry, you can rent it on the beach. If you prefer a bit more guidance, you can also hire an instructor to guide you during your underwater exploration.
If you're a nature lover and want to see some different bird and plant species, then i highly recommend taking a

FULL TOUR

down the Copalita River by raft. On this tour, you'll have the chance to spot a variety of bird species like herons and diving ducks, as well as take in the local flora. After the Copalita River experience, you can enjoy an Aztec clay bath on Bocana beach. To top off the day, you'll be taken to snorkel and take in the views from various lookout points in the area, including the lighthouse.
If you're looking for breathtaking views of the coast, then make sure to climb the lighthouse that's just a short 5-minute walk from the beach. The views from the top are truly spectacular, giving you a panoramic view of the entire coast. If you're feeling adventurous, take a walk to

playa Violín

. It's a secluded, small and solitary spot where you can enjoy peace and quiet and escape the crowds.
¿How to get to La Entrega beach?
One of the best things about Playa La Entrega is how easy it is to get to and the amenities available there.
If you're staying in Crucecita, getting to the beach is a breeze and won't break the bank. You can hop on a collective taxi for just 15 pesos, and the ride takes around 10 to 15 minutes.
Plus, when you're ready to head back, you'll find taxis waiting at the same spot you were dropped off.
Is it safe to travel to Mexico?
Mexico is a country where violent crime, such as robbery, homicide, and kidnapping, is common. There are states that it is not recommended to travel to ecause of safety reasons. Bellow, you'll find a list of the places that you should avoid.
The following states are not recommended for travel: Colima, Guerrero, Michoacan, Sinaloa, and Tamaulipas. And take extra precautions in Baja California, Chihuahua, Coahuila, Durango, Guanajuato, Jalisco, Mexico State, Morelos, Nayarit, Sonora, and Zacatecas.
Remember to follow these recommendations:
In case of robbery, do not resist physically.
Do not show a high purchasing power, that is, do not go with jewels, bags, etc … that are expensive.
Be careful if you go out at night, and stay in crowded places where you are surrounded by other people.
Thefts are usual (at guntpoint and during daytime), so don't go with the camera or mobile in your hand or hang out of your neck.
Try to avoid carrying the backpack on the back. Put it in front of you, or use a belt pouch or a cross bag.
I, personally, spent 4 months solo traveling around Mexico (I was in Puerto Escondido + Chacahua, Huatulco, Mexico City, Holbox, Merida, Valladolid, Tulum, Bacalar, Isla Mujeres, Cozumel and Playa del Carmen) and I didn't find myself in any dangerous situation.
Although in most of these places murders took place in the middle of the street and people staying in the same hostel as me were robbed at gunpoint. But don't let this scare you! Traveling to Mexico is totally possible, in fact it is a country with a lot of tourism.
In any case, it is always a good idea to have a TRAVEL INSURANCE that can compensate you economically and help you if a medical emergency arises.
If you are interested in traveling alone, I recommend this article on the reasons and benefits of solo traveling and this other article with tips for traveling alone as a woman. I encourage you to try it as it is a great and very beneficial experience for oneself.