El Ninot: a market to buy and taste, Barcelona
A girl, the daughter of the owner of a very popular tavern, was promised with a boy from the neighborhood of la Barceloneta. One day when she was at his fiancé's house, she saw a ship being dismantled, she was struck by a doll at the bow of the boat and asked him and his friends to save it from the fire. After rescuing it, they placed the doll on the front of the tavern. People began to call the tavern "El Ninot" (the doll) to differentiate it from those that were in the surroundings. Although officially the market is called el Porvenir, it is popularly known by el Ninot and is the name that is still used to refer to it.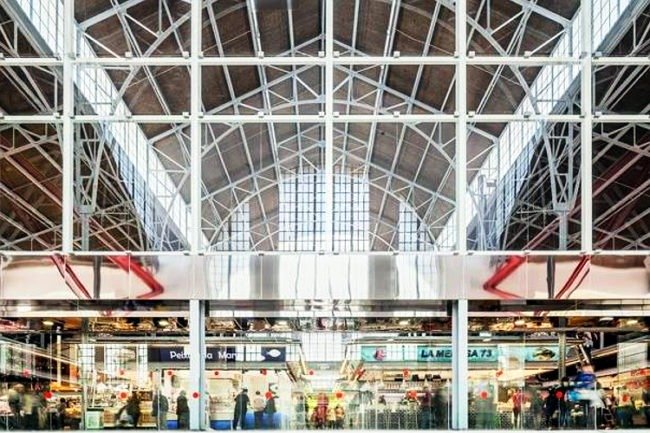 It was built in 1931 and until 1933 it was an outdoor market, but that year the market was remodeled with the current structure, which is the one that appears in the previous picture.
In the inside are grouped a set of stands offering products of all types: meat, fresh fish, sausages, cheeses, preserves, cod … At some stands there is a small kitchen where delicious dishes are cooked and aslo small snacks for occasional visitors, regular customers or people working in the neighborhood. A good idea would be to go for a walk around the market, take opportunity to buy some regional products and after the visit you can have lunch there, where to findfresher dishes than those made in a market kitchen?
Weekly cooking workshops are also organized inside of the market with different topics: tapas, rice, cooking with children, desserts, signature cuisine… The workshops take place from 18.30 to 21.00 and cost 25e. It can be a fun activity if you are traveling or living in the city, or as a gift.
Once a year the "Market Night" takes place. It is a dinner with music in different markets of Barcelona, where the different stands cook small tasting dishes. A beautiful activity to watch and exquisite to taste.
The nearest metro stop is the L5 Hospital Clínic.