Today I am going to talk to you about one of my favorite beaches in Costa Rica: playa Arco. It belongs to the Marino Ballena National Park in Uvita (Puntarenas) and is a totally paradisiacal and dreamlike beach. It is one of those unrepeatable places.
In the post I tell you how to get there, what playa Arco is like, and I'll tell you about Punta Pargo (the viewpoint on the way)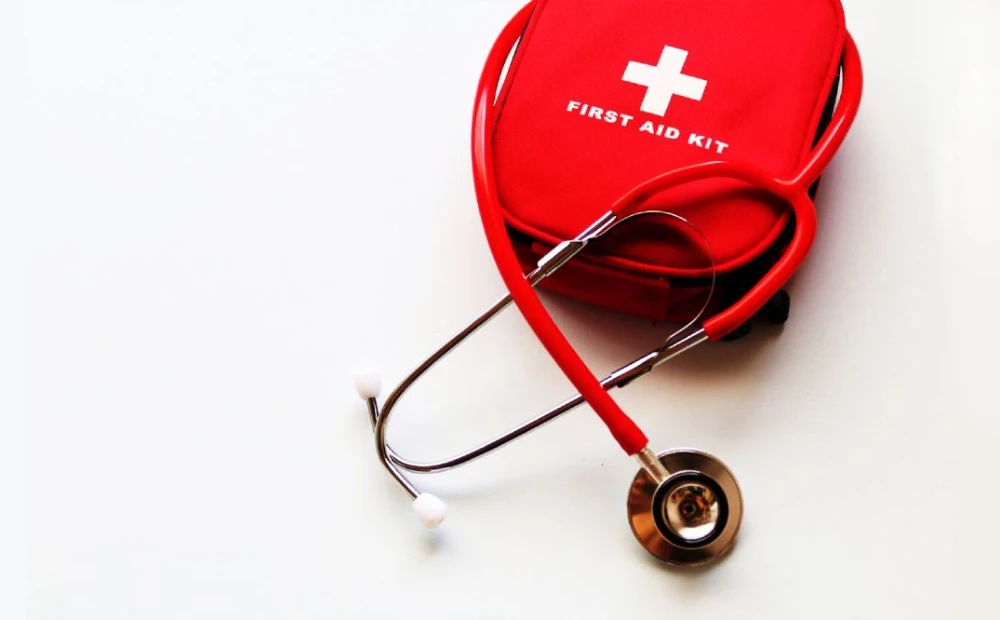 Best Travel insurance for Costa Rica
Here is what you will find:
PLAYA ARCO in UVita (Costa Rica)
If you are planning a trip to Costa Rica (👉COSTA RICA GUIDE), you should know that it is a country characterized by the beauty of its beaches, mountains, volcanoes and the diversity of its wildlife.
---
If you're foreigner planning a trip, in this link you can check the ✅ SANITARY REQUIREMENTS and get a VISA. Also, to help you travel without spending too much, in this link you'll find ✈️ CHEAP FLIGHTS and a 💥10% DISCOUNT on your TRAVEL INSURANCE.
When browsing the internet during your trip, it is essential to use a 👉 QUALITY VPN to ensure your privacy and security. Additionally, bringing a ⭐ TRAVEL DEBIT CARD will help you avoid issues with carrying cash and reduce the risk of theft.
---
This beach is part of the Marino Ballena Park and is a much less visited and quieter place, since it is not in the most famous part of the park and is a little further from the center of Uvita.
The beach is divided into two independent zones when the tide rises, and which are visually separated during the rest of the day, forming a small queue (similar to the one on the main beach of Marino Ballena, but much smaller).
The sand is golden and there are quite a few palm trees giving it a perfect tropical feel. Also the water is shallow and the beach is flat.
But Playa Arco offers much more: there is a small cave that connects the two beaches and that can be crossed perfectly, it is high enough for a person to pass through and it is a fun experience.
playa Arco waterfall
And… what I liked the most: the waterfall! On the beach itself, there is a small natural waterfall overlooking the sea, it is ideal to cool off in the shade or to wash off the salt. What seemed most ideal to me is that they have placed a cut bamboo cane to guide the water and make an impromptu shower. The feeling of showering in a waterfall while watching the sea is like something out of a movie.
If you are lucky and you are observant, among the vegetation you will be able to see different types of birds and some shy animals.
¡PLAYA ARCO warning!
The beach should be visited at low tide, because when it rises you can stay there without being able to leave, the people at the hotel in the area warned me to check the time to return on time.
In addition, going at low tide has the advantage that it allows you to appreciate the shape of a whale's tail that forms between the two beaches that make up Playa Arco (yes, like in the Uvita marine park, but smaller!).
As you can see, it is an incredible and very quiet place. Although I did not arrive especially early, I was able to enjoy the beach for a long time to myself and the following viewpoint:
The viewpoint in PUNTA PARGO
On the way to playa Arco there is a very nice viewpoint called Punta Pargo. It is a ledge made of rocks from where you can see an incredible view of the beaches in the area of Uvita and the Pacific.
If you don't like jumping off the rocks, there's also a bench where you can relax and take in the views (and if you bring breakfast with you, it's even better). The day I went it was a bit cloudy, but there was a rainbow in the middle of the ocean. Impressive.
Below I will tell you how to get there and attach the map, you will see that it is very close to the center of Uvita.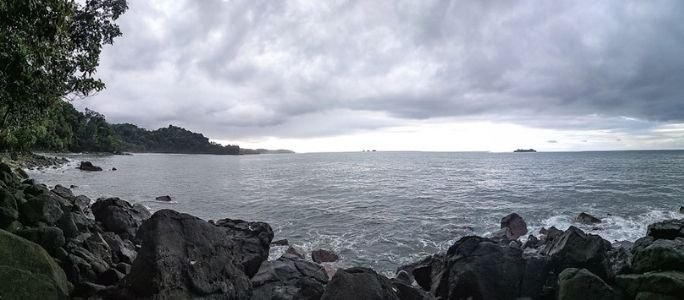 How to get to PLAYA ARCO
Playa Arco is a bit far from the center of Uvita, but luckily it is not located too far and you will be able to do the excursion comfortably.
First I will tell you how to get to this beach from Uvita itself, and below I will give you the explanations to get to Uvita from Dominical, San José and Drake Bay.
How to get to playa arco from

Uvita
To get there from Uvita, it is advisable to go by motorcycle or by car since there is no public transport that will take you there (neither bus nor collective).
You can also get there by bike (it's what I did), but temperatures are usually high and the sun is tremendous. To this you have to add that the road has many ups and downs, and it is most likely that the bicycle you rent does not even have gears. But if you prefer to save, you like to ride a bike or you don't have a license, then you can get there perfectly by pedaling.
Instructions to get to Playa Arco
You will start the adventure following the coastal road.
You must take the detour that appears on the map (you will find the map below) before reaching Arco beach, which will take you to a hotel where they will kindly let you pass.
From there there are two paths: one to go to Punta Pargo and the other to go directly to the beach (it is well indicated).

To go to punta Pargo: follow the path happily and then (when you start to doubt where to go next) cross the creek and continue a few meters to the left, it's very easy to find.
To go to Arco beach: simply follow the path, there is no loss.
I don't want to make myself heavy, but Playa Arco is a fabulous experience and one of the most beautiful places I've ever been, because of the tranquility, the beauty and the completeness of the place: hyper beautiful.
So don't hesitate any longer and do the Punta Pargo+Playa Arco combo and spend a day that you really won't forget.
👉 In these posts you can find information about Costa Rica and more travel tips.
How to get to playa arco from
Dominical
Dominical is very close to Uvita and is a regular stop if you are visiting the area. There is a bus that runs along the coastal highway and in a moment you are there.
The stop is on the highway that crosses Uvita itself; although if you talk to the driver, he will surely leave you in the area of the road where the playa Arco hotel is (the descent is very uncomfortable if you go with suitcases).
I leave you this link where I tell you how to get to Uvita from Dominical and vice versa.
Tip: arrive at the stop earlier and keep in mind that in Costa Rica the schedules are always indicative and not exact.
How to get to playa arco from
San José
From San José, you can get to Uvita by bus and by minibús:
– Getting there by minibus is the most comfortable option, but it is also more expensive. And it has the advantage that they come to pick you up at your hotel in San José and take you to the door of your hotel.
👉 Check the minibús prices to Uvita
– If you prefer, you can also go by bus. Public transport is the best option if you prioritize economy, since the ticket is cheap and the journey is direct. I leave you this link with the details on how to get to Uvita from San José.
How to get to playa arco from
Bahía Drake
Getting there from Drake Bay is a bit longer and heavier since you need to take a boat and two buses; but it can be done easily. The positive part is that the landscape by boat is beautiful and you may even see crocodiles on the pier.
Here you have all the steps and indications to go from Uvita to Drake Bay and vice versa.
Where to stay

when you visit playa aRCO
There are three main areas to stay if you want to visit Arco beach: on the main road that crosses Uvita; in the accommodations that are located near the Marino Ballena National Park itself (between Playa Hermosa and Playa Uvita); and in the only hotel on this beach.
The only reason I would recommend staying at the hotel just above Arco Beach is for the peace and quiet. Being away from the town and the highway, you will be able to relax for a few days, but it will be more inconvenient for you to move around the area freely or go to eat at the restaurants in Uvita.
My recommendation is that you book very close to Bahía Ballena Park (regardless of which beach, the important thing is to be close to the coast). Since it will be more comfortable for you to visit the beaches and you can also enjoy the sunset and the atmosphere.
If you book a hotel/hostel that is on the main road that passes through Uvita, then it will be more tiring to visit the area, since it is about 3.5 km away, and also the landscape will not be as beautiful.
This area has the advantage of being closer to the supermarket (it's one of the big ones) and the bakery; and this can help you save and eat healthy during the trip.
Tours and Activities in Costa Rica
Although small, Costa Rica is a country full of jewels and impressive places to visit. Its focus is on its nature and its fauna, with popular beach destinations, its volcanoes, and excursions to observe sloths, sea turtles or crocodiles.
Here you can find a list with tours and activities you can do during your trip, to discover Costa Rica in more detail:
What to do near

playa Arco

Uvita is a rather small town, but there are many really beautiful places to visit and discover.

Here are some that are near Arco beach and Uvita:
NAtional Park Marino Ballena
Playa Arco is part of the Ballena Marine Park. This natural park that receives its name from the shape of a whale's tail that is created when Playa Hermosa meets Playa Uvita.
Here you can enjoy a beautiful landscape, learn more about its fauna (both terrestrial and aquatic) and snorkel, surf, scuba dive and even sign up for a whale and dolphin watching tour!
Although it is the biggest tourist attraction in Uvita, the place is still very relaxed and pleasant; and, if you move a little away from the queue area, you will have the beach to yourself.
Catarata Uvita (waterfall)
Uvita Waterfall is the ideal place to disconnect from the beach and give your stay a little variety. It is a small waterfall near the center of Uvita, where you can bathe and jump from the rocks.
Next door there is also a butterfly garden, and a restaurant to eat something during your visit. In any case, I recommend that you bring some sandwiches and organize a small picnic in the river.
I hope you have a great trip around Costa Rica and enjoy your visit to playa Arco!