PUNTA ZICATELA: surfing among armies of pelicans in Oaxaca
Are you in Puerto Escondido (Oaxaca) and you want to enjoy the beach or surf in a relaxed place? Punta Zicatela offers a beautiful natural landscape and, in addition, sea turtles nest
👉 I tell you what to do in Punta Zicatela, how to get there and more places to visit in Puerto Escondido. Versión en español.
Punta Zicatela in Puerto Escondido
Things to do in Punta Zicatela
How to get to Punta Zicatela
How to get to Puerto Escondido from CDMX
Puerto Escondido Tours
Is it a safe place to travel?
More places in Puerto EscondidoPuerto Escondido
What to do in Punta Zicatela
If you are planning a trip to Mexico (👉GUIDE to MEXICO), you need to know that it is a country with a great cultural and natural wealth. It is full of sites to discover, traditions to learn about and activities to join.
---
If you're not a mexican citizen, in this link you can check the ✅ SANITARY REQUIREMENTS and get a VISA. Also, to help you travel without spending too much, here you'll find a 💥20% DISCOUNT on your TRAVEL INSURANCE and 🏠10€/10$ DISCOUNT on ACCOMODATION
---
If you are spending a few days in Puerto Escondido and you want to make an excursion not far away, Punta Zicatela is a worthy alternative to visit. It is located at the end of all of Zicatela beach (the beach is very long), but much more awaits you there than four beach bars and a bit of sand.
Practice surf
The star activity is surfing and, even if you don't bring your own board, you can easily find where to rent one. Prices in the area are around US$10 per day; although, if you rent it for longer, I suppose they will give you a discount.
The funniest thing about this place is that the best waves are right next to the Punta and it just so happens that it is the pelicans' favorite spot. It is very common to see a lot of surfers waiting on the board and totally surrounded by these birds, but surrounded surrounded, there are many pelicans!
Beaches on the other side of Punta Zicatela
Then you can continue with the adventure along the small path that goes up Punta Zicatela, it is not signposted but it is easily seen. When I say path I mean "a place where it seems that you can pass and there are enough stones to hold on to the top".
From the top, you can see views of the entire bay and the cliff, since it is a very rocky and also arid area. On the other side there is a small beach with a grotto (from which I saw a whale) and large rocks where you can sit and enjoy the calm.
A little further on you will find another wild beach full of logs (very natural) and, if you walk a little further until you reach the end, you will find the beach in the following photograph (on the map it is marked as Paso Hondo).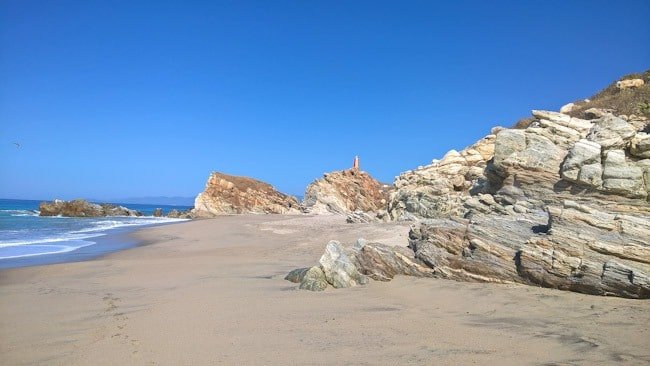 It is very pleasant to walk and lie on the sand. How wide the beach was and the dry landscape with huge rocks seemed beautiful to me. In addition, the day I was there I only found one person reading quietly and two men spear fishing, it is perfect to enjoy the tranquility!
Warning for lovers of snorkeling in Mexico! Although there are people fishing with goggles and tubes, the water is strong and there are many waves. It's dangerous to go in there! It is better that you dedicate the day to surfing and enoying the beach.
Release of sea turtles
In this last beach that I mention, I found a pleasant surprise. If you like animals, you should know that there is a refuge for turtles (Camp for the Protection and Conservation of Sea Turtles).
You can come over to talk to them and help with some release. There is no shade anywhere so better come prepared!
Beach bars + palapas
Do not imagine anything luxurious! Here, the beach bars are more casual and relaxed, but they are still a perfect activity to cool off, rest from the surf, meet people or enjoy a good book with natural views.
How to get to Punta Zicatela
There are two ways to get to Punta Zicatela, and your decision will depend on the time and physical effort you want to dedicate to it. These are the options:
Getting to Punta Zicatela by bus (colectivo)
You can come and go from Puerto Escondido to Punta Zicatela by bus (colectivo), and once you get to the beach you don't need to pay to enter. The journey is short and can be done in a moment, and it is pleasant and practical for a day trip or an afternoon/morning.
The bus stops at any point on the main road and the journey costs 8MXN.
Keep in mind that the bus will not leave you next to the beach itself. You will have to make the journey on foot from the coastal road through the town that is located in Punta Zicatela (the road is short, so it should not be a problem).
Warning! I recommend that you monitor the location with your mobile or that you tell the driver where you are going, so that he can notify you when you have to get off.
Getting to Punta Zicatela by foot
To enjoy the beach and the landscape that Oaxaca offers you even more, you can leave early in the morning and follow Zicatela beach on foot until you reach Punta.
It is a road that has no loss and, the further you get from Puerto Escondido, the calmer the landscape becomes. Always keep in mind the heat in Oaxaca and the sun, which can be harmful to your skin.
How to get to Puerto escondido from CDMX (Plane or bus)
You have two options to go from Mexico City (CDMX) to Puerto Escondido: you can decide to arrive by bus or by plane. I detail the two routes:
FROM MEXICO CITY BY BUS
The buses of the OCC company leave from the Terminal de Autobuses de Oriente (TAPO) located in the center of Mexico City. Keep in mind that the journey is quite long, since it lasts a total of 20 hours
👉 Check out the ticket prices
FROM MEXICO CITY BY plane
This option is much faster and more comfortable. If you want to save time, you have to know that Puerto Escondido has its own airport and the flights are quite cheap. In just 1h 15min you will arrive at your destination.
👉 Check out the flight and shuttle (airport) prices
Tours & activities In Puerto Escondido
Both in Puerto Escondido and in the surrounding area there are many activities you can do and new things to learn.
Its beaches are not only a paradise of sand and snorkeling, but are also suitable for surfing and are a nesting place for sea turtles. Here you'll find a list of the tours and trips that you can enjoy in Puerto Escondido so you can get to know the Oaxaca region better.
Is it a safe place to travel?
Mexico is a country where violent crime, such as robbery, homicide, and kidnapping, is common. There are states that it is not recommended to travel to ecause of safety reasons. Bellow, you'll find a list of the places that you should avoid.
The following states are not recommended for travel: Colima, Guerrero, Michoacan, Sinaloa, and Tamaulipas. And take extra precautions in Baja California, Chihuahua, Coahuila, Durango, Guanajuato, Jalisco, Mexico State, Morelos, Nayarit, Sonora, and Zacatecas.
Remember to follow these recommendations:
In case of robbery, do not resist physically.
Do not show a high purchasing power, that is, do not go with jewels, bags, etc … that are expensive.
Be careful if you go out at night, and stay in crowded places where you are surrounded by other people.
Thefts are usual (at guntpoint and during daytime), so don't go with the camera or mobile in your hand or hang out of your neck.
Try to avoid carrying the backpack on the back. Put it in front of you, or use a belt pouch or a cross bag.
I, personally, spent 4 months solo traveling around Mexico (I was in Puerto Escondido + Chacahua, Huatulco, Mexico City, Holbox, Merida, Valladolid, Tulum, Bacalar, Isla Mujeres, Cozumel and Playa del Carmen) and I didn't find myself in any dangerous situation.
Although in most of these places murders took place in the middle of the street and people staying in the same hostel as me were robbed at gunpoint. But don't let this scare you! Traveling to Mexico is totally possible, in fact it is a country with a lot of tourism.
In any case, it is always a good idea to have a TRAVEL INSURANCE that can compensate you economically and help you if a medical emergency arises.
If you are interested in traveling alone, I recommend this article on the reasons and benefits of solo traveling and this other article with tips for traveling alone as a woman. I encourage you to try it as it is a great and very beneficial experience for oneself.
What to do in Puerto Escondido
Puerto Escondido is popular for its beautiful beaches, and the facilities in restaurants and lodging that it offers; and Punta Zicatela is one of the many activities you can do.
I describe some of the places that you can visit in the surroundings, and that are really worth seeing and living.
Chacahua Lagoons
Lagunas de Chacahua is a small quiet town away from the crowds. There are different activities you can do: snorkeling, surfing, observing bioluminescence,…
The beach is white sand and stretches for miles. It is a simple place in facilities, and that focuses on enjoying nature and its relaxed atmosphere.
Brisas de Zicatela
Zicatela is located next to Puerto Escondido (you can walk there) but it has two particular characteristics.
It's a bit off the beaten path and much more relaxed than the main beach in Puerto Escondido (which tends to get more crowded); and, in addition, it is one of the reference places for surfing in Mexico.
If you want to practice or learn this sport, in Zicatela stores you will find boards to buy and rent, and you can easily sign up for a class to learn with an instructor.
BENITO JUÁREZ market
Qué mejor forma de conocer una cultura que adentrándose en su gastronomía y productos locales. El mercado Benito Júarez está ubicado en el centro de Puerto Escondido, y es muy fácil y económico de visitar en colectivo.
Se trata de un mercado donde podrás comprar productos tradicionales, flores, y frutas y verduras frescas; además, tienen pequeños restaurantes donde podrás comer platos típicamente mejicanos (como los tamales, los tacos, el tasajo, etc…).