Punta Zicatela, located in Oaxaca, is ideal for those seeking a laid-back beach and surfing experience. Not only is the area famous for its breathtaking scenery, but it's also known as a nesting site for sea turtles. This article will guide you through what to do in Punta Zicatela and how to get there from Puerto Escondido and the airport – by both public transportation and TRANSFER (👉prices). You'll also find the best hotels to stay at and some extra tips.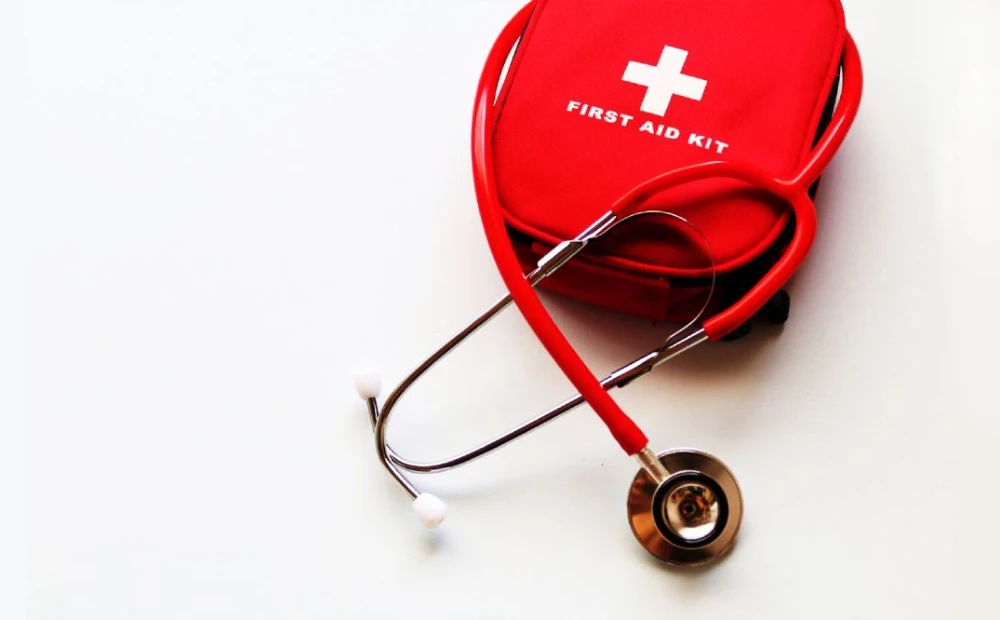 Best Travel Insurance for Mexico
Here is what you will find:
Punta Zicatela in Puerto Escondido (Oaxaca)
If you are planning a trip to Mexico (👉GUIDE to MEXICO), you need to know that it is a country with a great cultural and natural wealth. It is full of sites to discover, traditions to learn about and activities to join.
If you're planning to spend a few days in Puerto Escondido and want to stay in a more peaceful location or take a short excursion, Punta Zicatela is a great choice. It's located at the end of the lengthy Zicatela beach, but offers much more than just beach bars and a strip of sand.
---
If you're foreigner planning a trip, in this link you can check the ✅ SANITARY REQUIREMENTS and get a VISA. Also, to help you travel without spending too much, in this link you'll find ✈️ CHEAP FLIGHTS and a 💥10% DISCOUNT on your TRAVEL INSURANCE.
When browsing the internet during your trip, it is essential to use a 👉 QUALITY VPN to ensure your privacy and security. Additionally, bringing a ⭐ TRAVEL DEBIT CARD will help you avoid issues with carrying cash and reduce the risk of theft.
---
Best hotels to stay in Punta Zicatela
If you're considering staying in Punta Zicatela, this list presents the top recommended hotels categorized into three budget categories: high, medium, and budget-friendly.
These hotels and hostels offer the best in comfort, services, and location, whether you're seeking a place to unwind or to experience the excitement of surfing.
High budget
CASONA SFORZA (👉prices) is the perfect place to relax and soak up the sun on the beach. With exclusive beach access, a pool, free parking, a garden and terrace, and a stunning design featuring arches, it's a top choice for those seeking a luxurious getaway.
PUNTA ZICATELA HOTEL (👉prices) is the ideal spot for rest and relaxation. With indoor and outdoor pools, a bar, massage services, a garden, and free private parking, it provides a worry-free and rejuvenating experience.
Medium budget
CABANE CONTAINER (👉prices) is a modern-style hotel with an outdoor pool, free private parking, a gym, and a garden. It also features a terrace, restaurant, and bar for a worry-free and complete experience.
CASA DE OLAS (👉prices) is a boutique hotel with a unique ambiance and décor inspired by surfing themes. It offers a spa, pool, gym, and all the amenities you need for a relaxing getaway.
Low budget
VILLA BONOBO (👉prices) boasts a swimming pool and a rooftop bar with breathtaking sea views. It offers both private rooms and shared dorms to accommodate a range of budgets, and features a shared kitchen for your convenience.
REAL JUQUILITA LA PUNTA (👉prices) provides both private rooms and shared dorms. You'll have access to a swimming pool, hammocks, a yoga area, private parking, and a shared kitchen for a practical and comfortable stay.
CASA PUNTA (👉precios) offers private rooms and shared dorms to suit the needs of each traveler, and has a hammock area and surfboards for fun in the sun. Plus, it's conveniently located near a market and supermarket.
What to do in Punta Zicatela
Punta Zicatela is a love-at-first-sight kind of place. This beach in Puerto Escondido, Mexico is a surfer's paradise.
However, it's not just about surfing at Punta Zicatela. It's also a great place to unwind, soak up the sun, savor the local cuisine, and meet fascinating people.
In this article, I'll let you in on all the fun activities you can do in this Oaxacan gem.
Practice surfing
Surfing is the main attraction here and if you don't have your own board, don't worry, there are plenty of places to rent one. The average cost is around US$10 a day, but if you're planning on renting for an extended period, you might be able to negotiate a discount.
The best part is, the best waves are right off the coast of Punta Zicatela and it just so happens to be a favorite hangout spot for pelicans. It's a common sight to see surfers waiting for their turn on their boards, completely surrounded by these birds. And when I say surrounded, I mean surrounded. There are so many pelicans here!
Beaches on the other side of Punta Zicatela
You can embark on a scenic hike up Punta Zicatela along a narrow path that's not marked but easy to spot. When I say path, I mean an area where it appears you can walk, with enough stones to hold onto as you make your way to the top.
From the summit, you can take in breathtaking views of the entire bay and cliff. The terrain is rocky and arid. On the other side, there's a small beach with a grotto (where I once spotted a whale) and large rocks for you to sit on and enjoy the peace and quiet.
A little further down the trail, you'll come across another secluded beach dotted with logs (very natural), and if you keep walking until the end, you'll reach the beach in the photo below (it's marked as Paso Hondo on the map).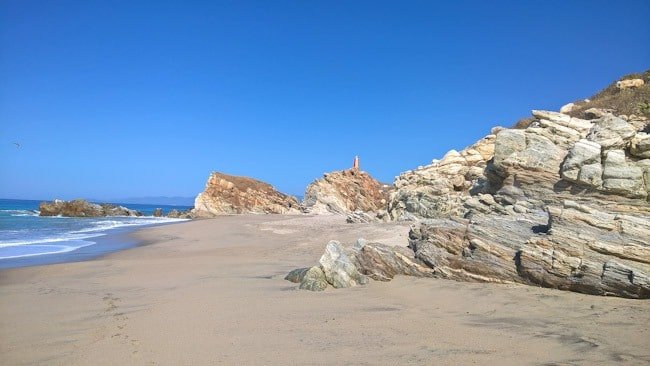 Walking and lounging on the sand is a real treat. The wide beach and the stark, rock-filled landscape are simply stunning. On the day I was there, I encountered only one person quietly reading and two men fishing with spears, making it the perfect place to bask in peace and quiet.
Attention all snorkeling enthusiasts in Mexico! While you may see others fishing with goggles and tubes, the water is strong and the waves are high, making it hazardous to enter. Instead, spend your day surfing and enjoying the beach.
Releasing sea turtles in Punta Zicatela
At the last beach I mentioned, I was pleasantly surprised. If you're an animal lover, you'll want to know about the sea turtle protection and conservation camp.
You can visit the camp and ask if you can assist with any turtle releases. Just keep in mind that there's limited shade, so be prepared for the sun.
Beach bars + palapas
You'll find bars on the main beach at Punta Zicatela. The other side of the beach is all natural. If you're looking for a drink, don't expect anything too fancy.
The beach bars in Punta Zicatela are laid-back and relaxed, making them a great spot to cool down, take a break from surfing, socialize with others, or simply enjoy a good book while taking in the natural surroundings.
getting to Punta Zicatela from Puerto Escondido & the airport
There are four options for getting to Punta Zicatela, and your choice will depend on how much time and physical effort you're willing to invest. RENTING A CAR (👉prices) is the most independent option, but it's not the only one.
Here are the other options:
Getting to Punta Zicatela from the airport
If you fly into Puerto Escondido, getting to Punta Zicatela is a breeze. The most convenient option, and one I highly recommend, is to take a TRANSFER (👉prices). The advantage here is that the price is fixed and there won't be any surprises, plus you won't have to wait in line for a taxi.
If you're looking to save some money, you can opt for a shared transfer on the link above. It's affordably priced and you'll get to your destination in no time.
Getting to Punta Zicatela by bus (colectivo)
You can take the bus (colectivo) from Puerto Escondido to Punta Zicatela, and the best part is that it's free to enter once you arrive at the beach (it's not a private beach). The trip is short and convenient, making it perfect for a day trip or a quick visit in the morning or afternoon.
The bus stops along the main road and costs 8 MXN. Just keep in mind that the bus won't drop you off right at the beach. You'll need to walk from the coastal road through the town in Punta Zicatela, which isn't far, so it shouldn't be a problem.
TIP: To make sure you get off at the right stop, keep track of your location with your phone or let the driver know where you're headed so they can let you know when to get off.
Getting to Punta Zicatela by foot
If you're looking to fully immerse yourself in the beauty that Oaxaca has to offer, why not start your day early and take a walk down Zicatela beach all the way to Punta Zicatela?
The path is straightforward and the scenery becomes increasingly peaceful the further you get from Puerto Escondido. However, don't forget about the heat and intense sun in Oaxaca, which can be damaging to your skin, so make sure to bring plenty of sunscreen and a bottle of water.
GEtting to Puerto escondido from CDMX
You have three options to travel from Mexico City to Puerto Escondido: by bus, car, or plane. Let me give you some details on each of the options:
Getting from CDMX by

CAR
If you're planning on using your own vehicle or RENTING A CAR (👉prices), here's the route you'll need to follow to get to Puerto Escondido.
Drive on the highway from

Mexico City to Acapulco

(around 5 hours).
Once you reach Acapulco, take the

Costanera Highway towards Puerto Escondido

(around 6 hours).
Note that the total distance is 762 km, and it will take about 11 hours and 15 minutes to complete the journey. It's best to leave early in the morning to avoid driving at night.
From Mexico City by PLANE
Traveling by PLANE (👉prices) is the quickest and most convenient option. If you're looking to save time, know that Puerto Escondido has its own airport and flights are relatively inexpensive. You'll arrive at your destination in just 1 hour and 15 minutes.
To make transportation easier, consider booking a TRANSFER (👉prices) to your hotel in Puerto Escondido or Punta Zicatela.
FROM MEXICO CITY BY BUS
OCC buses (👉price) leave from the Oriente Bus Terminal (TAPO), located in the heart of Mexico City. Keep in mind that the trip can be quite lengthy, taking around 20 hours.
Tours & activities In Puerto Escondido
Both in Puerto Escondido and in the surrounding area there are many activities you can do and new things to learn.
Its beaches are not only a paradise of sand and snorkeling, but are also suitable for surfing and are a nesting place for sea turtles. Here you'll find a list of the tours and trips that you can enjoy in Puerto Escondido so you can get to know the Oaxaca region better.
Is it safe to travel to Mexico?
Mexico is a country where violent crime, such as robbery, homicide, and kidnapping, is common. There are states that it is not recommended to travel to ecause of safety reasons. Bellow, you'll find a list of the places that you should avoid.
The following states are not recommended for travel: Colima, Guerrero, Michoacan, Sinaloa, and Tamaulipas. And take extra precautions in Baja California, Chihuahua, Coahuila, Durango, Guanajuato, Jalisco, Mexico State, Morelos, Nayarit, Sonora, and Zacatecas.
Remember to follow these recommendations:
In case of robbery, do not resist physically.
Do not show a high purchasing power, that is, do not go with jewels, bags, etc … that are expensive.
Be careful if you go out at night, and stay in crowded places where you are surrounded by other people.
Thefts are usual (at guntpoint and during daytime), so don't go with the camera or mobile in your hand or hang out of your neck.
Try to avoid carrying the backpack on the back. Put it in front of you, or use a belt pouch or a cross bag.
I, personally, spent 4 months solo traveling around Mexico (I was in Puerto Escondido + Chacahua, Huatulco, Mexico City, Holbox, Merida, Valladolid, Tulum, Bacalar, Isla Mujeres, Cozumel and Playa del Carmen) and I didn't find myself in any dangerous situation.
Although in most of these places murders took place in the middle of the street and people staying in the same hostel as me were robbed at gunpoint. But don't let this scare you! Traveling to Mexico is totally possible, in fact it is a country with a lot of tourism.
In any case, it is always a good idea to have a TRAVEL INSURANCE that can compensate you economically and help you if a medical emergency arises.
If you are interested in traveling alone, I recommend this article on the reasons and benefits of solo traveling and this other article with tips for traveling alone as a woman. I encourage you to try it as it is a great and very beneficial experience for oneself.
What to do in Puerto Escondido
Puerto Escondido is popular for its beautiful beaches, and the facilities in restaurants and lodging that it offers; and Punta Zicatela is one of the many activities you can do.
I describe some of the places that you can visit in the surroundings, and that are really worth seeing and living.
Chacahua Lagoons
Lagunas de Chacahua is a small quiet town away from the crowds. There are different activities you can do: snorkeling, surfing, observing bioluminescence,…
The beach is white sand and stretches for miles. It is a simple place in facilities, and that focuses on enjoying nature and its relaxed atmosphere.
Brisas de Zicatela
Zicatela is located next to Puerto Escondido (you can walk there) but it has two particular characteristics.
It's a bit off the beaten path and much more relaxed than the main beach in Puerto Escondido (which tends to get more crowded); and, in addition, it is one of the reference places for surfing in Mexico.
If you want to practice or learn this sport, in Zicatela stores you will find boards to buy and rent, and you can easily sign up for a class to learn with an instructor.
BENITO JUÁREZ market
Qué mejor forma de conocer una cultura que adentrándose en su gastronomía y productos locales. El mercado Benito Júarez está ubicado en el centro de Puerto Escondido, y es muy fácil y económico de visitar en colectivo.
Se trata de un mercado donde podrás comprar productos tradicionales, flores, y frutas y verduras frescas; además, tienen pequeños restaurantes donde podrás comer platos típicamente mejicanos (como los tamales, los tacos, el tasajo, etc…).