Santa Caterina Market is a vibrant market in Barcelona that is known for its colorful produce, seafood, and meats. The market was rebuilt in 2005 with a modern design that features a wavy roof made of colorful tiles. The market is a popular spot for both locals and tourists, and it is a great place to experience the flavors of Barcelona.
Best Travel Insurance for Spain
Here is what you will find:
Santa Caterina market
Santa Caterina market is located in the district of Ciutat Vella in Barcelona and receives its name from the convent of Santa Caterina, of the order of the Dominicans, who previously occupied its place. The original construction dates from 1847 but was recently remodeled by Enric Miralles and reopened in 2005.
The area in which it was built it has a long history that has left traces of its past. It is estimated that between the years 1800 and 1500 was used as cemetery and human remains are still conserved. Later it became a Roman pottery producing center, but at the beginning of the 4th century AD it returned to its use as a necropolis that lasted until the 6th century. During the medieval period a Romanesque church and a convent were built. 
In the 19th century began the decline of the convent and finally in 1837 the church and the convent were collapsed.
Returning to the present the market enjoys a wide offer in typical and regional products, distributed in different specialized stands. In addition we can also enjoy good tapas and finger food, breakfast or a complete lunch prepared with fresh products by different indoor bars or by the market stands. To taste the delicious dishes nothing better than sitting on a terrace to appreciate the food and the architecture of the area at the same time.
Contests are organized periodically to not lose contact with the customers and the people of the neighborhood, the topics are different: sandwich, drawing,  omelette competitions, … is a fun way to keep the market alive.
Don't forget to visit this market if you are in Barcelona during Carnival, Halloween or the Three Magic Kings : the vendors disguise themselves and set the stands with different topics related to the festivity. It's really fun to see how this place is transformed, or how a zombie full of blood puts your apples in a bag and makes bill quietly.
So if you feel in the mood, you have a bus stop (120 Gombau-Jaume Giralt) next to the market's door or, if you prefer to take the metro, it's the line L4 Jaume I.
Useful items for your stay in Barcelona
Below you will find some items that will be useful during your trip to Barcelona. In addition, the options that I recommend are committed to environment/social causes and are vegan.
10l backpack for day trips and trekking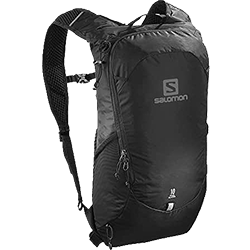 This 10 L backpack 10 is ideal for visitng cities or going hikimg. It has two compartments to organize your stuff properly and internal space for a hydration bag, as well as a side pocket to carry a bottle.
The size is suitable for 1 day trips and to go running, since it allows you to take everything you need with ease. In addition, it covers less of the back and thus avoids being overheated.
Insulated bottle (BPA free)
The Super bottle Sparrow is very practical to carry water and liquids when you are visiting around, or your are planning on going to the beach or trekking; and is made of stainless steel.
It is thermal and can maintain the temperature (hot and cold) for 12 hours. This is a great way to cool off when you go to the beach or in hot weather. In addition, it comes with an additional cap for practicing sport, two straws and a cleaner.
Waterproof windbreaker
Carrying a waterproof windbreaker in your suitcase is essential in case temperatures drop, it rains unexpectedly, or to go hiking.
When traveling, it's important to choose a jacket that is lightweight, takes up little space and that you can use in different situations; that is to say, that transpires, is waterproof and has a hood to protect you properly from bad weather.
👉 Price windbreaker for MAN and windbreaker for WOMAN