How to gET TO TORTUGUERO from SAN JOSÉ by bus/plane/Transfer
Do you want to know how to go from San José to Tortuguero (Costa Rica) or vice versa by bus, PLANE, SHUTTLE or car? There are different methods of transport and getting there will not be a problem
👉 In this post you will find a list with the detailed steps, the price of the routes, and some extra tips
sAN jOSÉ TO TORTUGUERO
Tortuguero National Park
How many days in Tortuguero?
When is the best time to visit Tortuguero?
How long does it take to get to Tortuguero
How to get to Tortuguero from San José
Where to stay in Tortuguero
Tours and activities in Costa Rica
What to do and see in Tortuguero y ver en Tortuguero
Is it a safe place to travel?
Eating vegan in Costa rica
Tortuguero National Park
If you are planning a trip to Costa Rica (👉COSTA RICA GUIDE), you should know that it is a country characterized by the beauty of its beaches, mountains, volcanoes and the diversity of its wildlife.
---
If you're not a citizen, here you can check the ✅REQUIREMENTS and get the VISA, and so you can travel peacefully without worrying about your health and safety, here you'll find a 💥 TRAVEL INSURANCE. And don't forget to get 🏠10€/10$ DISCOUNT on ACCOMODATION!
---
Tortuguero National Park is a natural reserve located in northeast Costa Rica, in the province of Limón. It's made up of a series of interconnected channels and lagoons, surrounded by tropical rainforest.
The park is known for being home to a large number of species of reptiles, amphibians and birds, as well as being the nesting place of 3 species of sea turtles: the green turtle, the baula and the carey.
How many days iN Tortuguero?
If you want to enjoy Tortuguero National Park, you have two possible options: to do a one-day tour or to spend more days in the park.
If you have little time to visit Costa Rica and want to make the most of your time, you can do a 1-DAY TRIP to see Braulio Carrillo Park and Tortuguero Park.
On the other hand, if you have more time and want to travel in a more relaxed way, I recommend that you spend a minimum of two nights in the park. This gives you time to take a boat ride, hike to see the nocturnal wildlife and make a trip to the hill.
When is the best time to visit Tortuguero?
There are three factors you have to take into account when deciding when to visit Tortuguero National Park: temperature, rain and turtle nesting season.
Temperatures in Tortuguero remain stable throughout the year, with maximums of between 29 and 31ºC.
The next factor to consider is rainfall. In Tortuguero, the wettest months are from May to December, although it is a very humid place throughout the year.
And finally, the nesting of turtles. The three species that nest in the park swim towards the shores of Tortuguero between the months of July and October. It will be during this period that you will have more opportunities to see them.
How long does it take to gET TO TORTUGUERO from SAN JOSÉ
The differences in times depending on the transport you choose can vary quite a bit, I will tell you how long it takes to get there with each option:
Plane: the journey lasts 1 hour, but you have to be at the airport one hour before departure
Transfer: the duration of the trip is 3h 30min, counting the minibus and the boat
Bus: this is the longest option, since it will take a total of 4h 30min (buses + boat)
How to get to TORTUGUERO from SAN JOSÉ
To get to Tortuguero from San José by public transport, you have 4 options: go by bus, plane, car or shuttle, and each of them has its advantages. Below, I tell you in detail the 3 methods of transportation.
Important: if you want to make the journey in the opposite direction (that is, go from Tortuguero to San José) and your final destination is not San José itself (but it is just a place of passage), you can make the entire journey as long as you leave Early in the morning.
Personally, I took the first boat, the one at 5 in the morning, since my final destination was Matapalo and I wanted to make the trip in a single day. To give you an idea: I left Tortuguero at 5, at 9:30 I arrived in San José and at 11 the bus left to go to the Pacific coast (Quepos, Jacó, Domincal, Uvita and those places).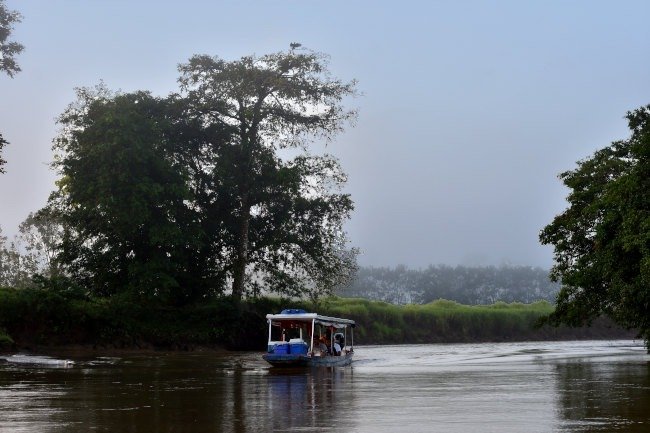 How to get to TORTUGUERO from SAN JOSÉ by plane
Going by plane is the fastest option of the 3, since the journey takes only 1 hour and you do not have to make any kind of transfer. The flight takes you directly from Juan Santamaría airport to Tortuguero airport.
It is a very good alternative if you arrive in San José by air and want to go directly to Tortuguero without having to spend the night in the capital.
👉 Flight prices from San José to Tortuguero and from Tortuguero to San José
Shuttle

from SAN JOSÉ to TORTUGUERO
This method of transport is especially pleasant, since the route from San José to Tortuguero takes only 3h 30min and takes you directly to your destination. In addition, it offers more comfort than the bus, since it has air conditioning and free Wi-Fi.
The journey you will make will be from San José to La Pavona by minibus, and then you will take a boat that will take you to the Tortuguero National Park.
👉 Shuttle prices from San José to Tortuguero and from Tortuguero to San José
How to get to tortuguero from SAN JOSÉ by
bus
Going by bus is the most economical transport to move between San José and Tortuguero, although you will have to make more transfers. The steps that you will find below are to go from Tortuguero to San José.
To go from San José to Tortuguero is basically the same, but you have to calculate that the last bus from Cariari to Pavona leaves at 3 in the afternoon, if you arrive later you will have to spend the night in this small town and it is not a place that stands out for its beauty or tourist attraction.
This is the breakdown, step by step, of the adventure:
1. Go to the Tortuguero pier (you will surely find the schedules at the hotel). The first boat leaves at 5 in the morning, and it is the one you should take if you want to make the most of the day or if you have a long way to go to the next point on your route. The price is 2500 CRC with suitcase included.
Enjoy the boat ride and get in front of everything to feel like in Titanic, but jungle plan.
2. When you arrive at the La Pavona pier, you have to take the bus to Cariari. I went with one that was actually a school bus, just like the one from the Simpsons, it was great. The ticket costs 1100 CRC.
4. Once you have arrived in Cariari, the bus leaves you at the same terminal where the bus departs to go to San José. The ticket for the journey to the capital will cost you 1815 CRC.
5. In San José, if you need to take a taxi/uber to get to the hotel or change terminals to go somewhere else in Costa Rica, it will cost you approximately 1600 CRC for two kilometers. It is a more than acceptable amount if you also go with suitcases. Now all you have to do is relax and enjoy life.
San José to Tortuguero By Car
If you're looking to explore one of Costa Rica's most popular national parks, you won't be able to do so by car. Althought the journey from San Jose can be made by car, you'll have to park before before arriving there.
What you can do is drive to the La Pavona pier and park your car in the guarded parking lot next to it. It costs about 7,000 CRC per day.
After finding a place to park your car during your stay in Tortuguero, you have to buy a ticket to go by boat to Tortuguero National Park. Don't worry, if you don't know where to find the parking lot or where to buy the ticket, you can always ask at the pier.
To help you calculate your travel budget, you need to know that the price of the boat ticket to Tortuguero is 2500 CRC (luggage included).
Where to stay in Tortuguero
The town of Tortuguero is very small, and you really shouldn't worry about the location of the accommodation. Even if you stay a bit far from the center itself, in a few minutes walk you will find a restaurant where you can eat or you will arrive at the pier to do the tours.
I recommend that you prioritize finding a nice hotel/hostel that fits your budget; and, if possible, that it has good views of the lagoon.
If you are vegan, or want to save or eat healthy during your stay, in the very center of town there are two supermarkets where you can buy the basic things to cook. They are tiny but have a little of everything, including fresh fruits and vegetables.
Tours in COsta Rica
Costa Rica is a country with a wide variety of fauna and nature. You can visit volcanoes, natural parks, towering waterfalls, sunbathe on the beach, kayak,…
I'll list some of the activities and tours you can enjoy during your trip:
What to do in Tortuguero
The excursions that you can do in Tortuguero revolve around knowing the channels of the lagoon, hiking, and seeing and learning about its fauna.
There are different activities and tours that you can do during your stay; although, you can also do some of them on your own and without the need to hire a guide.
Visit the lagoon by boat
This excursion is done in a small boat where a small group of about 6 people can fit. The size of the boat is great, as it allows you to feel closer to the natural environment and gives you the feeling of living a little adventure; especially if you come across alligators, you will have them very close!
Tip: you can do this at different times of the day, but I recommend that you choose the first thing in the morning, since it is less hot and the animals tend to be seen more (during midday they are hidden).
Night trekking to see the fauna
It is an activity that takes place after dark. You do a little walk without going too far from the town, and the fun is to go looking with the flashlight, and see all the nocturnal animals that are hidden during the day.
Depending on how lucky you are, you will be able to see different types of animals such as snakes, frogs, small mammals, armadillos,… I walked back along the beach with the guide, to try to see the sea turtles and enjoy the starry sky (it's full , full of stars, it's amazing).
Learn about SEA TURTLES spawning
Sea turtles spawn 3 to 4 times a year. On the beaches of Tortuguero, 4 different species of sea turtles arrive to nest. These are the different stages of the process:
1) The mother turtle arrives at the beach at night to dig a hole in the sand, and lays between 80 and 120 eggs. Then it runs back to the water before the predators arrive.
2) 45 to 70 days later, the baby turtles break out of their shell, and run as fast as they can into the sea. This seems very easy but it is an odyssey, because there are some that go to the side that they do not touch, others that are preyed upon by the animals that live there, or sometimes the waves are strong and throw them back onto the sand.
3) Once in the water, they begin to swim like damned so that they are not eaten by any seagull or any bug that is there.
Hike to Cerro Tortuguero
Cerro Tortuguero is an extinct volcano that is located about 5.5km from the town. Although not particularly high, the summit (standing 119m above sea level) is the highest peak in the region.
The day begins with a boat ride (about 10 or 15 minutes) to the beginning of the path that leads to Cerro Tortuguero. The walk lasts a total of 2 hours and at its highest point you can see the views of the lagoons, the jungle, the town of Tortuguero and the sea.
I hope you have a great time in Tortuguero and enjoy your trip to the fullest!
Costa Rica is a moderately dangerous country, where nothing should happen to you if you go carefully and take precautions. Remember to follow these recommendations:
In case of robbery, do not resist physically.
Do not show a high purchasing power, that is, do not go with jewels, bags, etc … that are expensive.
Be careful if you go out at night, and stay in crowded places where you are surrounded by other people.
Thefts are usual, so don't go with the camera or mobile in your hand or hang out of your neck.
Try to avoid carrying the backpack on the back. Put it in front of you, or use a belt pouch or a cross bag.
Personally, I spent 3 months traveling alone in Costa Rica (I visited San José, Puerto Viejo, Tortuguero, Dominical, Uvita, Bay Drake and Puerto Jiménez) and I did not find myself in any really serious situation.
Going down the street with the camera, several Costa Rican people approached and warned me that they were carefully with robberies, since they told me that they are very frequent.
In my case, during the trip they tried to steal 2 times and, luckily, I realized on time and I could avoid it. In any case, it is always a good idea to have travel insurance that can compensate you financially and help you if a medical emergency occurs.
👉 If you are interested in traveling alone, I recommend this article about the reasons and benefits of traveling alone and this other article with tips for traveling alone being a woman. I encourage you to try it since it is a great and very profitable experience for oneself.
Eating Vegan in Costa Rica
Costa Rica is not a country faced with vegan food. Anyway, they have some traditional dishes that are vegan or that you can ask without egg or sauces such as the pico of rooster (rice with beans for breakfast), black bean soup or rice with vegetables.
You should always ask if the purés or soups are made with some type of dairy product or meat broth, since at first glance they might seem vegan dishes but not be.
In San José you can find some vegan restaurants, but when you leave the capital the offer is very limited or non -existent. Next, I make three recommendations and in this link you can read tips to travel vegan.
Try to stay in hotels that are characterized by cooking vegan and vegetarian dishes. This is the best option and the most practical for not having to be looking for places where to eat comfortable without always repeating the same dishes.
Before going on a tour that includes a meal, always mention that you are vegan or vegetarian, so that they can adapt the food.
Costa Rica is a country where you can find a variety of fresh products (fruits and vegetables) to prepare salads and breakfast with fruits. In any city or town, you will easily find some supermarket or stalls on the street where you can buy groceries.