Are you planning a trip and want to know when it's most cost-effective to purchase flights online? I will share all my secrets, tips and advice for finding discounted tickets, both with and without using a VPN (👉RECOMENDED). Furthermore, you will find a list of websites where you can buy affordable plane tickets, as well as a practical example using SKYSCANNER (👉link) including recommendations and a step-by-step guide on how to find cheap flights online using a VPN (tutorial).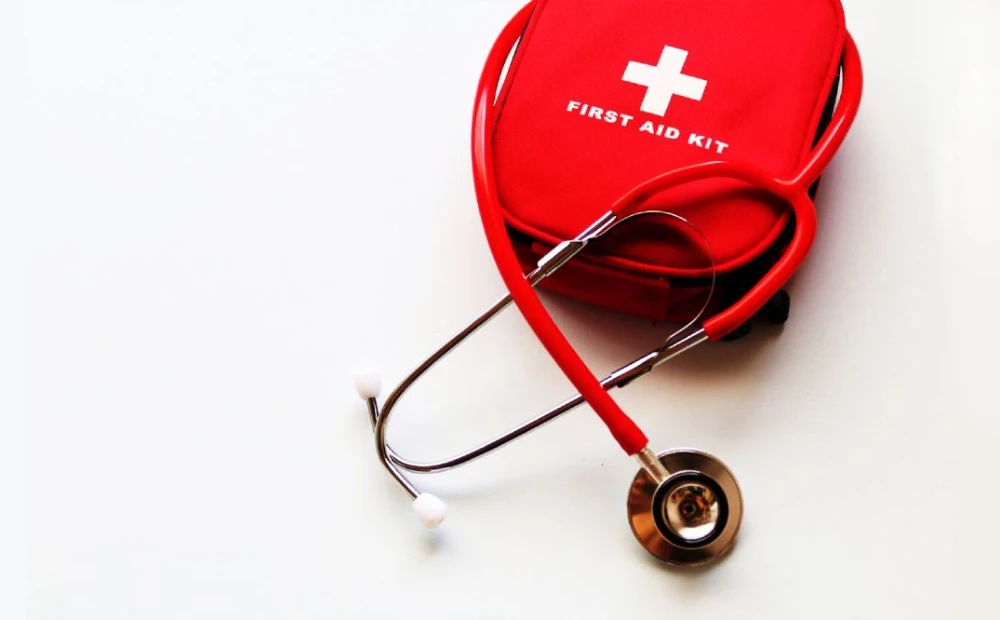 Best Travel Insurance For Your Trip
Here is what you will find:
How to BUY and book CHEAP FLIGHTS
The significance of finding affordable flights cannot be overstated. Frequently, the cost of an airline ticket is the determining factor when planning a trip.
While it is true that there are many ways to cut costs when traveling, the expense of the flight is typically the largest portion of the budget.
There are many methods to save money or flights. Most people believe that the only way to save money is by purchasing tickets far in advance. However, this is not always the case. This article will provide an overview of the strategies for finding inexpensive airline flights, as well as factors that can cause prices to increase.
---
If you're foreigner planning a trip, in this link you can check the ✅ SANITARY REQUIREMENTS and get a VISA. Also, to help you travel without spending too much, in this link you'll find ✈️ CHEAP FLIGHTS and a 💥10% DISCOUNT on your TRAVEL INSURANCE.
When browsing the internet during your trip, it is essential to use a 👉 QUALITY VPN to ensure your privacy and security. Additionally, bringing a ⭐ TRAVEL DEBIT CARD will help you avoid issues with carrying cash and reduce the risk of theft.
---
Where to purchase airplane tickets
One of the first things to consider when planning a trip is where to purchase airplane tickets. The best option is to use a flight comparison website, which will compare the available flights from different airlines and travel agencies, so that you don't have to do it manually.
Some of the best websites to find cheap flights (both domestic and international) include flight search engines with calendar views, which offer a monthly view of the cheapest flights.
There are many platforms on the internet to buy cheap flights, but not all of them are equally popular or offer the same features. To make the most of your time, I recommend these websites for purchasing inexpensive air tickets:
SKYSCANNER: this is the search engine that I use, and also the one that I will use in the practical example that you will find below (includes monthly view).
Lastminute -x
eDreams-
Expedia -x
When is the best time to book cheap flights?
I am going to guide you on how to find a cheap flight step by step using a practical example, but before we begin, it's important to keep in mind that the timing of purchasing the ticket plays a crucial role in getting a good price. Below, you will find tips on when to search for flights during the year that will be cheaper for you to travel.
Always try to avoid peak times
The best time to purchase cheap flights is during low season, meaning when there is less tourism. High season typically falls into two categories: internationally recognized times, such as the end of the year and Christmas, and those that are more specific to the individual country.
To find out when low season is, you can do a Google search by typing "low season in (city name)" or "low season in (country name)" and you will find the period when prices are lower for traveling to that destination. For example, if you search "peak season in Munich," you will find that during Oktoberfest (the beer festival that takes place in September-October) prices tend to increase.
It is also generally cheaper to travel during the week rather than on weekends as prices tend to be more expensive on these days. This is not a strict rule and may not apply to all situations, but it is a good general guideline.
Seasons of discounts
Another strategy for finding cheap flights is to take advantage of seasons of discounts such as Black Friday or Cyber Monday. Many airlines also offer special promotions, such as anniversary discounts or special event discounts.
I recommend conducting an initial search for flights and, when you have identified the airlines that interest you, visiting their official websites to check if they are offering or will offer any discounts soon.
It is often more worthwhile to wait a few days to obtain a discount than to purchase a plane ticket immediately. However, it's important to keep in mind that prices can fluctuate, so if you have to wait a month or two to get the discount, it may be too risky as prices could increase significantly.
What is a VPN and what is it for?
First, I will explain in technical terms what a VPN (👉RECOMENDED is and then I will explain how it can help you when traveling and how you can find cheap flights using a VPN.
A VPN (Virtual Private Network) is a simple and user-friendly program designed to protect your privacy while browsing the internet. It makes it much harder for hackers and other third parties to steal your data and information about the websites you visit and your location.
When you have a VPN active while connecting to the internet, all your data (including what you send and receive), passwords, traffic, etc. are encrypted, allowing for more secure browsing. Additionally, your IP address will not be discoverable.
What is the best VPN for traveling?
There are several VPNs available on the market, some are free and some are paid. Personally, I recommend THIS VPN (👉LINK) as it is one of the best options available at an affordable price. Keep in mind that free VPNs usually have more limitations, and if you are looking for a VPN to use while traveling, it is important to choose a high-quality product that offers a high level of security.
Here is a list of situations in which a VPN may be necessary when traveling:
When abroad, you will be

frequently connecting to public or shared WiFi networks

(in hotels, cafes, airports, subways, etc.) which are not always secure and can leave you exposed.
When making

reservations for flights or hotels

, all the information you send and receive will be vulnerable. This includes your identification documents, passport, and

personal data

. With a VPN, this information will be encrypted, preventing it from falling into the wrong hands.
A VPN is also useful when making

online payments

, such as paying for reservations or processing visas, as it protects all the

information

related to your

bank card

.
As you will see below, you can use a

VPN to find cheap flights

and save money when you travel. To do so, you just have to follow the tips and steps provided.
When traveling abroad, you may find yourself in countries where the legislation or entertainment offerings are different from your home country. A

VPN

will help you

access content that may not be available in your current location

, such as YouTube, Netflix, Instagram, etc.
How to use a VPN to find cheap flights
Here is the advantage of using a VPN when searching for flights. When you browse the website of an airline or a flight comparison website, the prices of flights are based on various factors such as the currency you use, the economy of the country you are searching from, or your economic status (based on your browsing history).
By using a VPN, you will be providing less information about yourself, and in addition, you will be able to change the country from which you are searching for flights. Let me explain the last point more clearly, as it seems to cause confusion for many people.
To illustrate, let's say you are in Colombia and want to buy a flight from Mexico City to Paris. With a VPN, you can search for the prices of that same flight (Mexico City to Paris) by changing your location, making the browser think that you are searching from different countries (Colombia, France, the United States, Mexico, etc.) and compare the prices offered. The flight will be the same (Mexico City to Paris), but the offers will vary.
Steps to buy a plane ticket online with a VPN
Let's use a case study as an example. I am in Barcelona and let's say I want to travel to Thailand. In this case, we will use a VPN (👉RECOMENDED) to help you find the cheapest flight tickets by searching from different locations around the world.
It's important to note that this example is just that, an example to demonstrate the steps for finding cheap flights online. The more time and comparisons you make, the better prices you will find.
Step 1: delete all cookies
The first step is to delete all cookies so that the browser is not aware of your previous browsing history and prices are not influenced.
In Chrome, click on the three vertical dots in the upper right corner. A menu will be displayed, select "History" from the menu, and the page that you see in the image below will appear. Then, click "Clear browsing data."
"You will now see three options: Browsing History, Cookies and Site Data, and Cached Images and Files. Select the second option, "Cookies and Site Data," and click the blue button labeled "Clear Data."
Step 2: Search with VPN
In this step, we will begin searching for flights. For the purpose of this example, I used SKYSCANNER (👉link), but you can use any platform that you prefer by adapting the search accordingly. Keep in mind that not all platforms offer the same search or display functionality.
We will conduct a search for the entire month to have a wider range of prices and a better understanding of what is most suitable for us.
Our departure date is in March and our return date is in April. In this example, we will first perform a search without a VPN from Spain (this is the country where I am), and then a search with a VPN from the United States.
It is recommended that you search for the entire month for both your departure and return dates, and that you choose your origin city (in this case, Barcelona) and the COUNTRY of your destination (Thailand) as your arrival location.
This way, you will have a clearer view of prices throughout the month and can choose the most cost-effective days for your trip.
After conducting the search, you will be presented with a page displaying the cheapest prices for each city/airport in Thailand. This makes it easier for you to determine the best starting and ending points for your trip.
In our example, it is cheaper to land in Bangkok (the capital of Thailand) as opposed to other popular tourist destination airports, such as Phuket or Krabi, where prices tend to be higher. In the next step, we will conduct a more detailed comparison of prices."
Step 3: Compare flight prices
In this step, we have selected the destination city of Bangkok, and upon clicking on it, a calendar will appear displaying the cheapest flights available for each day of the month.
On the left side of the picture, you will see the prices of a one-way flight from Barcelona to Bangkok searched from Spain, and on the right side, the price of the same ticket searched from the United States.
As you can see in this example, the difference in prices between countries is relatively consistent, with the exception of the 25th, where there is a difference of $26 US."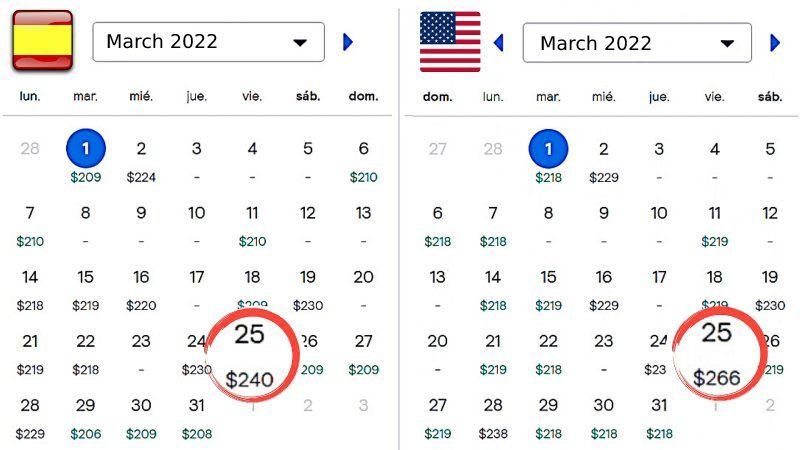 Let's compare the prices of the return flight. As you can see in the image, they vary a bit more. On April 22nd, there is a difference of $32 US, and on April 23rd, a difference of $74 US.
I recommend conducting searches to compare prices from:
the country of origin (in this case, Spain)
the destination country (in this case, Thailand)
Additionally, I personally always do a search from the United States
Furthermore, I recommend choosing countries that have weaker currencies or less stable economies than yours. This is because in these countries, purchasing power is lower and prices are more likely to be low.
Now that you have compared prices from different countries, it's time to select the most suitable options and proceed to the next step.
Step 3: Choose the best offer
When you have selected your flights, a screen will appear displaying all the available options for your chosen date. To find the most affordable options, sort them by price and take note of the departure time and layovers (if any).
Additionally, some flight search engines offer price alerts via email, keeping you informed of any changes or offers for your route (such as from Barcelona to Bangkok and vice versa).
Next to the flight information, you will see a green button labeled "Select." By clicking on it, you will be able to view a breakdown of the price, with more options and details about the ticket. Additionally, you can verify that the final price displayed on the screen is accurate. Further down, I will provide more information about this.
When you click on the previously mentioned button, you will be directed to a page similar to the one shown in the photo below. Be aware that there may be multiple buttons labeled "Select," so be careful not to get confused with the steps.
On the page you are directed to, you will find a list of intermediaries that sell the flight, such as travel agencies and flight websites. These intermediaries may offer different prices and deals, which may vary depending on the country you are searching from.
It is recommended that you choose the one that you prefer and check the final price WITHOUT completing the purchase. However, before making a decision, be sure to read the advice on flights with stopovers, extra charges, and included luggage to find the best deal and most comfortable flight.
As previously mentioned, when selecting a flight, it's important to consider factors beyond price and time. Below, I've provided a couple of tips to help you make the best decision when it comes to stopovers, extra charges, and luggage options.
Flights with layovers
When considering flights with layovers, there are three key factors to keep in mind:
The

duration of the layover:

Some layovers can be as long as 15 hours or more.
Visa requirements

can vary greatly from country to country and it's important to be aware of the specific requirements for the countries you will be visiting. For some countries, a visa is required even for a short layover, which can add to the overall cost of your trip, making it an important factor to consider when budgeting for your travel.
Location of layover

: It's important to check if the layover takes place in the same airport or in two different airports within the same city. If you are not familiar with the city, transportation issues and potential delays can cause you to miss your connecting flight. To avoid this, try to find flights with layovers that take place within the same airport.
All of this information can be found on the same screen as the flight details, usually located between the departure and arrival times of the flight.
Avoiding Additional Charges During Flight Purchase
After choosing the flight that best suits you, it's important to always review the final price as additional charges can be added during the purchasing process.
These charges may not always be necessary and can be easily overlooked. To avoid paying for unnecessary charges, it's important to carefully review the final breakdown of the flight price and unselect any expenses that are not desired.
For example, some airlines may offer a service that covers contingencies for an additional fee of $20. While this service may seem necessary at first glance, upon closer examination there's an option to decline the service without being charged "No thanks, I'll take the risk". By selecting this option, you can save $20.
Baggage Allowance
It is crucial to verify the baggage allowances included in your ticket before buying it. This will ensure that you are aware of any additional fees that may be incurred for carrying more luggage or exceeding weight limits.
Also keep in mind that depending on the airline, the maximum weight of the hand luggage will change (usually it will be 7 or 10 kilos). I recommend that, if you want to save and travel more calmly, always go only with your carry-on suitcase and forget to check in.
To save money and travel more comfortably, consider traveling with only a carry-on suitcase and avoid checking in any additional luggage. In the example being discussed, it is noted that the cheapest option of the ticket does not include checked baggage.
Step 4: Official airline price
After obtaining the final price from the flight comparison website, it is important to check if the same flight is available at a lower price directly from the airline. This can be done by visiting the official website of the airline and comparing the prices.
Remember that if you access the airline's official website and see that it is not in your preferred language, you can use Google to search for the website and use the translation feature for reference. Keep in mind that the translation may not be perfect, but it will provide sufficient assistance to understand the content and verify the flight prices.
When on the airline's website home page, be sure to check for any upcoming deals or promotions, as it may be more beneficial to wait and take advantage of these offers instead of making an immediate purchase.
As you can see in the following image, the current offers may not be applicable for our itinerary as they are only for flights to Paris and the United States and there are no offers available for flights to Thailand.
After searching for flights on the airline's website, I selected the most economical option available (economy class). As you can see, in this case, the price offered by the flight comparison tool is more cost-effective than the price listed on the airline's website (€365 vs €379).
It is now up to you to evaluate and compare the options and select the best one that suits your budget and needs.
Final advice for buying flights online
It's important to be patient when making online purchases, especially when using a slow internet connection or a website that is running slow.
If you experience difficulty during the purchase process, such as the "buy" button not working, it's best to wait before trying again. Hitting the "buy" button multiple times can result in multiple purchases, which can be difficult to resolve and may result in financial loss.
It happened to me twice and, instead of just one ticket, I bought seven. Luckily, I got my money back, but it scared the hell out of me!
If you are unsure whether your purchase was successful, it's best to wait for a confirmation email or contact the airline directly to confirm your purchase.
Useful resources for your trip
Properly organizing a trip can help ensure a smooth and stress-free vacation. PLANING an ITINERARY and making a travel BUDGET can help you stay organized and avoid overspending.
While you're getting ready for your trip, don't forget to find a flight that fits your needs and budget. With this easy and efficient guide on how to find CHEAP FLIGHTS step-by-step, you'll be able to snag the perfect flight for your pocketbook.
When it comes to financial aspect of your trip, it's important to also think about how you will MANAGE your MONEY and cash once you arrive in the country or if you decide to travel by plane. Additionally, these tricks on how to WASH your CLOTHES during your trip, whether you're staying in a hotel, camping, or dorm, can help you save money and keep your clothes fresh.
If you're eager to explore the world but have a limited budget, a popular option is to VOLUNTEER while TRAVELING volunteer while traveling. This approach allows you to experience other cultures while also giving back, and it's also a great way to travel solo and meet new people.
If the idea of traveling alone interests you and you want to learn more, be sure to check out this post where I discuss all the BENEFITS of SOLO TRAVEL and how it can change you. And, if you are a woman, I highly recommend reading these tips for TRAVELING SOLO as a WOMAN, they will give you insight on how to ensure your safety while traveling and how to choose the right destination and avoid any unsafe situations.
Before I say goodbye, I want to share one final tip with you. From my personal experience, I understand how challenging it can be to TRAVEL while staying VEGAN. That's why I've put together a comprehensive guide filled with advice for traveling as a vegan. Inside, you'll find plenty of suggestions for ordering vegan meals at restaurants, information on where to purchase vegan personal care products, and even tips on how to prepare food in your hotel room!