In this explanation I will guide you step by step so that you can calculate your travel or vacation budget in Excel in a structured, visual and practical way. Please note that as this is just an example, I have made up the prices.
Here is what you will find:
Discounts & resources for your trip
Before creating your travel budget, take a look at these links. They can assist you in determining the cost of each aspect of your trip, including lodging, transportation, and activities.
Travel insurance, SIM card, hotels,…
Here, you will find all the essential resources to plan every aspect of your trip and gain a clear understanding of the costs involved.
Tours and activities
In the table below, you will find different tour and activity agencies, enabling you to compare and discover the best offers at the most competitive prices.
Why is it important to make a travel budget
Regardless of the trip you are planning to do (with friends, partner, backpacking through Southeast Asia or burning tickets in Hawaii), making a travel budget will help you not only to know how much money you should have when leaving your country , but also to organize correctly and decide what you are going to do (especially if it is a group trip, where each one wants to say their own).
In addition, many people are reluctant to travel because they think it is expensive and they are going to spend a lot of money. But this does not have to be like this. With a good budget, traveling can be economical since you will have more control when choosing what you can afford and what not.
And it is that, when making a budget, you know in advance what all your expenses will be and how much money you will need for each thing. In this way, you avoid spending more and getting unpleasant surprises.
So, if you are thinking of traveling, do not forget to make a good budget. It will be very useful for you!
How to create a travel budget in Excel
To make a good travel budget, it is important to make everything visually very clear. If it's chaotic, it's going to be ineffective and annoying.
As you will see, in the following practical example I use a spreadsheet to automate the calculations. It is better to do it this way instead of by hand, since you will be able to make all the changes you want comfortably and the prices will be updated.
To make the budget step by step, we will divide the budget into 8 parts: cities / towns to visit, accommodation, food, transportation, tourist attractions, souvenirs and contingencies.
Next, I am going to tell you step by step how to organize your budget correctly using some very useful tricks.
Travel budget in Excel:
days and cities
We will start by numbering the first column of the table and writing the day of the month to better orient ourselves (29J for January 29, 30J for January 30, etc…).
In the second column we will write the city or town where we plan to spend the night. We will change the color of the background, to highlight the days of the stay and make the budget more visual.
In the example that we are going to use, we are planning a 5-day trip to Italy (from January 29 to February 2). We have decided to split the accommodation between Rome and Milan.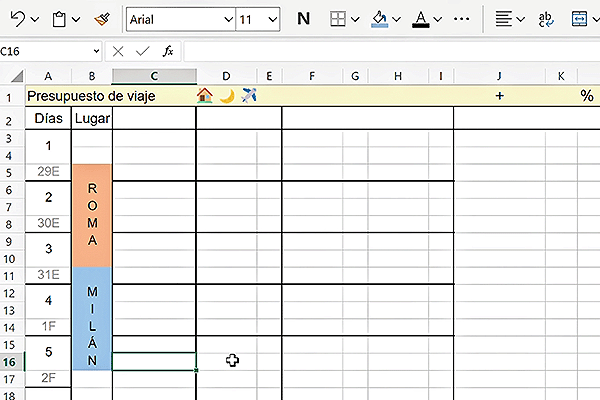 Travel budget in Excel:

hotels
In order not to get confused with the hotels that we must pay for, we will put a little house in on the day we return (February 2). And in the other boxes we will put a moon. In this way, we clearly see on which days we have to book a hotel and where.
It is practical to do it this way because hotel stays are counted by nights and not by days. And so we can clearly see how many nights we have to pay and in which city (since it clearly matches the color).
Surely you have noticed that there is a day (January 3) when there is neither a moon nor a house. And on this day what happens? Well, I save the hotel because I have a night flight to Milan.
We are going to take the opportunity to put a plane in the accommodation box and mark in the first column the days that we have the flights (as a reminder). Now we can write the name and the price of the hotels.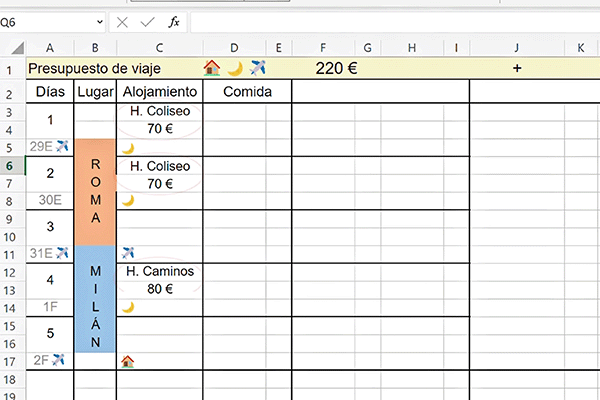 Making a travel budget:
meals
The next thing will be to write down the price of the food dividing it between breakfast, lunch and dinner.
In the case of the example that we are using, we will have breakfast at the hotel, so in this column we will not write anything.
The idea is to save a little on meals on most days, so you can dine somewhere nice in Rome and Milan. In addition, we will bring some fruit for dinner at the Rome airport. Please note that the last dinner will not have a cost related to the trip, since we will eat at home.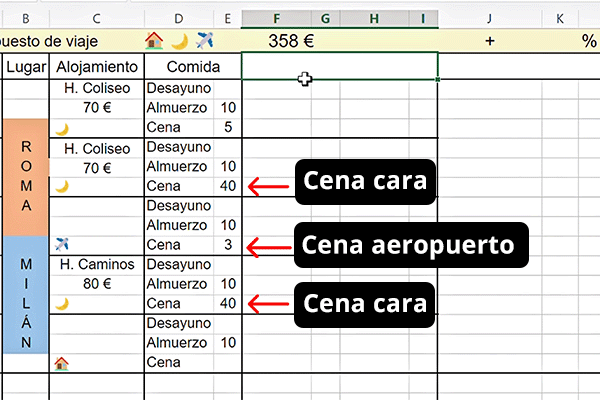 How to make a travel budget:

transportation
The next column will be transportation. We will need two taxis to go to the airport and get to the hotel. We will also write the price of the flight and the public transport voucher that we will use to move around Rome. We will do the same with the other days.
In the event that you make a road trip (by car or motorcycle), you should make an approximate calculation of the kilometers you are going to travel and find out the price of gasoline in the country you plan to travel. This way you will have an estimate of the cost of transportation.
If you plan to travel by plane, you can consult this guide where I tell you how to find CHEAP plane FLIGHTS.
How to make a travel budget:

tourist attractions
Now we will make a list of the places and activities that we want to do during the trip and the costs.
This step will help you not only to calculate how much you are going to spend on tours and visits, but also to have a list of all the places you want to visit.
Remember that you do not need to order them by days, you just need to make a list where you include all the prices to know when you will be spending.
You can use this website to find tours and activities, or to find out about the prices that vary in the country. You only have to enter the name of your destination and a list of activities will appear with the detailed explanation and the price.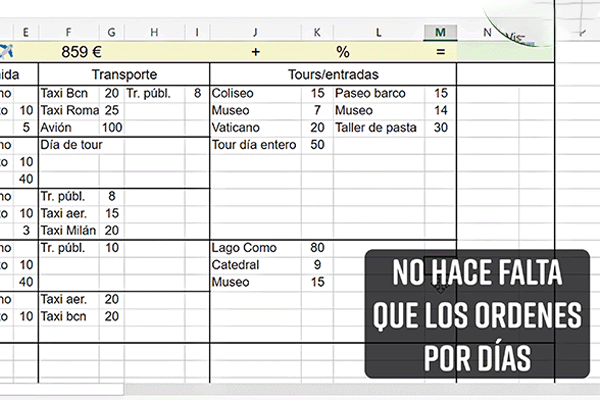 How to calculate a travel budget in Excel:

souvenirs
En esta última columna, escribiremos el presupuesto que tenemos para souvenirs. Escribe el nombre de las personas a las que les quieres llevar algun recuerdo y el presupuesto que tienes para cada uno.
No te olvides de incluir el dinero que vas a gastarte para tus cosas. Piensa que a veces aprovecharás el viaje para comprar cosas que te atraen del país, como serían pañuelos, merchandising de alguna serie que te guste, cerámica, vestidos, etc… Todo esto debes incluirlo en este paso.
VISA AND TRAVEL INSURANCE
Depending on your nationality and the country you decide to travel to, you will need a visa or travel insurance. You also have to take these expenses into account in your budget.
I recommend this link where you can check the ✅REQUIREMENTS and get the VISA of the country you are going to visit. Also, so that you can travel with peace of mind, here you'll find a 💥 5% off on your TRAVEL INSURANCE.
Additional expenses
The price you see here is not the actual quote. Keep in mind that unforeseen events can arise on all trips and you need money just in case. As the economies of the countries are different, it does not make sense that you always establish the same amount. What I recommend is that you increase the final budget by at least 20%.
In case the tickets are more expensive than expected, if you need to take a taxi, in case you want to do an extra tour, etc.
In other words, in the previous example it gave us a total budget of €964. If we calculate 20% of €964, it gives us €192.8. In this way, the final budget would be €1156.8.
Useful resources for your trip
Properly organizing a trip can help ensure a smooth and stress-free vacation. PLANING an ITINERARY and making a travel BUDGET can help you stay organized and avoid overspending.
While you're getting ready for your trip, don't forget to find a flight that fits your needs and budget. With this easy and efficient guide on how to find CHEAP FLIGHTS step-by-step, you'll be able to snag the perfect flight for your pocketbook.
When it comes to financial aspect of your trip, it's important to also think about how you will MANAGE your MONEY and cash once you arrive in the country or if you decide to travel by plane. Additionally, these tricks on how to WASH your CLOTHES during your trip, whether you're staying in a hotel, camping, or dorm, can help you save money and keep your clothes fresh.
If you're eager to explore the world but have a limited budget, a popular option is to VOLUNTEER while TRAVELING volunteer while traveling. This approach allows you to experience other cultures while also giving back, and it's also a great way to travel solo and meet new people.
If the idea of traveling alone interests you and you want to learn more, be sure to check out this post where I discuss all the BENEFITS of SOLO TRAVEL and how it can change you. And, if you are a woman, I highly recommend reading these tips for TRAVELING SOLO as a WOMAN, they will give you insight on how to ensure your safety while traveling and how to choose the right destination and avoid any unsafe situations.
Before I say goodbye, I want to share one final tip with you. From my personal experience, I understand how challenging it can be to TRAVEL while staying VEGAN. That's why I've put together a comprehensive guide filled with advice for traveling as a vegan. Inside, you'll find plenty of suggestions for ordering vegan meals at restaurants, information on where to purchase vegan personal care products, and even tips on how to prepare food in your hotel room!