Thai Park: a bit of Thailand in Berlin
During the summer the Preussenpark turns into a bit of Thailand every Sunday. From 11am until 10 pm you can enjoy the food of this country made by native people. There is where to choose: from worms cooked with love…
to less daring dishes like fried fish, noodles, rice, meat balls and sweets like the balls of the picture bellow, if you ask you can buy a small bag with one of each kind so you can to try them all. The food is really Thai, like the food that you can find in the stalls on the streets of this country. One of my favorite dishes is dim sum, they offer a lot of different  flavors and colors, and some are also vegan.
A part from dim sum they also offer a wide variety of vegan dishes such as noodles or fried vegetables (something like the Thai version of tempura), fruit, young coconuts and juices of different types, there is no excuse to not eat even if you're on a diet!
The best option is to buy a little of everything and go to sit on the grass to enjoy the picnic, and if you want to cheer up the day, there are always people with trays of freshly made mojitos walking around the park.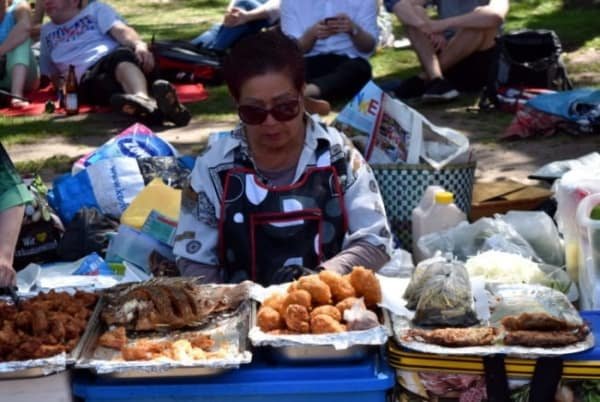 If you are a bit lucky you'll enjoy live music, often you can enjoy small bands playing in the park, near the flea market that takes places next to the subway and the Biergarten (a bar with lots of outdoor tables with waiters serving half liter glasses of beer), do not forget to have a look at the market before you leave.
The nearest subway stop is U – Bhf Fehrbelliner Platz, the U2, U3 and U7 lines take you there or you can take a bike and enjoy the ride and the sun.